Irvine Ranch Water District Recognized for Water Recycling at Dual-Plumbed Hyatt House Irvine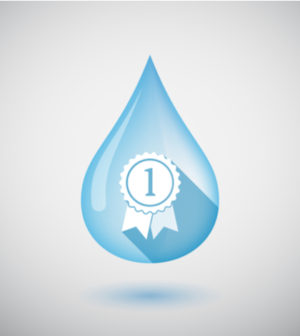 Whereas other hotels may have dual-plumbing in their lobby areas, the new Hyatt House in Irvine has the distinction of being the first dual-plumbed hotel in California. The WateReuse Association recently recognized Irvine Ranch Water District (IRWD) for the dual-plumbing project and awarded the Orange County water agency with an "Excellence in Action" award.
The dual-plumbing project at Hyatt House is part of IRWD's ongoing WaterStar certification program. Hyatt House Irvine opened earlier this year and features recycled water to flush all toilets and urinals in the facility — including in 149 guest rooms, the lobby area, pool area and employee accommodations. The completed project is now in line to save more than 500,000 gallons of drinking water each year. Recycled water used for irrigation on the hotel's grounds saves an additional million gallons annually.
Hyatt's conversion to recycled water in guest rooms was a huge step for the nation's hospitality industry but the international company saw significant benefits to starting the dual-plumbed usage in water-stressed California, where the potential for heightened awareness and education could have the biggest impact in terms of public education and industry responsiveness. Hyatt's dedication to protecting the environment and its commitment to setting aggressive goals for reducing water consumption is part of the company's 2020 sustainability strategy.
IRWD's WaterStar certification program is an individualized program that is open to the district's commercial, industrial, and institutional customers including commercial landscape irrigators within the IRWD water service area. Once a customer is deemed eligible, an application is submitted and a free, on-site evaluation is conducted. The evaluation will include a survey of a customer's water-using fixtures, equipment, and landscape irrigation systems. Water consumption history will be analyzed and recommendations are made to improve water use efficiency with a customized landscape irrigation water budget designed to assist in tracking outdoor water use. On-site employee education presentations are offered when applicable. Water efficiency measures can include, but are not limited to, the installation of low-flow water fixtures, sink faucets and automatic flush valves and low-water use in its cooling towers and boilers. Industry specific measures such as highly water-efficient instrument sterilization equipment measures in medical facilities and weather-based microclimates systems in university dormitories are tailored approaches that IRWD can help facilitate.
Once various measures are implemented and results are evident the district awards the WaterStar certification status to the customer. In addition to Hyatt House, 11 other IRWD customers have received the district's WaterStar Business Certification
The WateReuse Association also recognized two other entities – the Anne Arundel County Department of Public Works, Maryland and City of Show Low, Arizona – in addition to IRWD with the Excellence in Action Award. In presenting IRWD with their award the WateReuse Association referred to them as "one of the Nation's best and brightest in water recycling."