Natural Resources Agency awards 39 grants in CA for urban greening improved air and water quality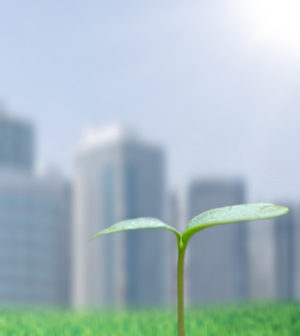 After evaluating 143 applications the California Natural Resources Agency (CNRA) has announced that 39 projects will share $76 million for green infrastructure projects. Funding by Cap-and-Trade revenues will provide for the green infrastructure projects that convert built environments into green spaces that improve air and water quality and provide opportunities for walking, biking and recreation. The projects aim to reduce greenhouse gases by sequestering carbon, decreasing energy consumption and reducing vehicle miles traveled.
Along with other state carbon reduction measures, California's Cap-and-Trade program works toward ensuring the state is on target to meet its goal to reduce greenhouse gas emissions by 40 percent below 1990 levels by 2030 as called for SB 32. Of the 39 projects receiving the CNRA grants, 92 percent of the funding has been awarded to projects in disadvantaged communities as specified by SB 535 of 2012.
"These innovative projects will improve the state's urban areas and create green spaces that are more sustainable and enjoyable," California Secretary for Natural Resources John Laird said. "Urban greening projects help meet our greenhouse gas emissions targets while contributing to healthy and vibrant communities."
The California State Park Foundation has been granted $894,705 for the Yosemite Slough Restoration & Development Project at Candlestick Point State Recreation Area. The 1987 Candlestick Point State Recreation Area (CPSRA) General Plan called for restoration of Yosemite Slough, a former tidal marsh reduced by filling of San Francisco Bay. In 2003, California State Parks partnered with the California State Parks Foundation to develop the comprehensive Yosemite Slough Restoration Plan. The three-phase project will restore the largest tidal marsh in both the city and county of San Francisco. Phase 1 broke ground in 2011 and was completed in 2012. It restored tidal marsh vegetation to the north portion of the slough and included remediation of 41,000 cubic yards of contaminated soil and planting of native tidal marsh vegetation.
Phase 2 of the Yosemite Slough Restoration Plan includes the construction of an interpretive facility and trails, an extension of the Bay Trail, and new restrooms, parking, and picnic areas on the north side of the slough. Phase 3, which includes habitat restoration and user amenities on the south side of the slough, is currently in the design phase, and will now move forward with construction with the CNRA funding.
Other grant awardees by county include:
Alameda County:
Alameda County, $4,100,000, San Leandro Creek Urban Greenway, Phase 1.
Rose Foundation for Communities and the Environment, $469,749, Coliseum College Prep DAC High  School Greening Project
 Butte County:
City of Chico, $1,530,929, Comanche Creek Greenway, Phase 2.
Contra Costa County:
East Bay Regional Park District, $2,100,000, San Francisco Bay Trail Lone Tree Point Urban Greening.
City of Richmond, $4,100,000, Greening the Yellow Brick Road.
City of San Pablo, $3,999,540, Rumrill Complete Green Streets Phase II and Community Urban Tree Program
Trust for Public Land, $3,114,025, Richmond Wellness Trail, Phase 1.
Fresno County
City of Sanger, $166,050, Sanger Veterans Park – Community Green Spacd Development
Imperial County
City of El Centro, $648,000, City of El Centro Construction of Plank Park.
Kern County
City of Arvin, $527,447, Pathways to a Greener Arvin – One Step at a Time.
City of Delano, $527,762, Eleventh Avenue Center Greening Project
Los Angeles County
Amigos de los Rios, $920,625, Emerald Necklace Rio Hondo – Phase II
California Greenworks, Inc., $150,000, South Los Angeles Urban Community Greening and Citizen Forestry Project
City of Compton, $1,207,921, Alameda-SR 91 Urban Greening and Water Reclamation Project
From Lot to Spot, $104,166, Watts Urban Tree Canopy & Rain Garden Parkways
City of Huntington Park, $4,700,000, Huntington Park Greenway Project
County of Los Angeles, $2,500,000, East Los Angeles Sustainable Median Stormwater Capture Project
Los Angeles Neighborhood Land Trust, $2,500,000, The Wishing Tree Park (formerly Del Amo Neighborhood Park)
City of Lynwood, $2,853,000, Lynwood Urban Bicycle Trail
North East Trees, Inc., $1,200,000, Ramona Gardens Green Connections Project
City of Pomona, $1,390,069, City of Pomona – Phil & Nell Soto Park
City of Rosemead, $520,533, Duff Park Improvement Project
City of South Gate, $1,779,200, Long Beach Boulevard Complete Street Greening Project
Trust for Public Land, $3,700,000, Zamora Park Renovation Project
Madera County
Madera County Public Health Department, $686,382, The Health Trail
Mendocino County
City of Ukiah, $1,780,307, Closing the Gap: Northwestern Pacific Rail Trail Phase 3
Orange County
City of Westminster, $2,324,140, The Mendez Historic Trail & Green Street Bikeway Project
Riverside County
Desert Recreation District, $3,086,000, North Shore Community Park Project
Sacramento County
City of Sacramento, Department of Community Development, $2,000,000, Railyards Green Streets
City of Sacramento, Department of Parks and Recreation, $1,800,000, Sacramento Northern Parkway & Bike Trail Enhancement
San Diego County
City of Imperial Beach, $1,134,853, Imperial Beach Blvd Green Streets
City of National City, $1,151,265, Paradise Creek Park
San Diego Unified Port District, $4,800,000, Sweetwater Bicycle Path and Promenade
Santa Clara County
City of Morgan Hill, $1,761,980, Butterfield Boulevard Connector Path Project
Stanislaus County
City of Modesto, $3,193,401, Virginia Corridor Trailway, Phase 7 Project
Tulare County
City of Visalia, $199,267, Mill Creek Beautification at Burke St.
Ventura County
City of Oxnard, $1,200,000, Oxnard La Colonia Green Alleys Project
Yolo County
City of West Sacramento, $5,178,684, Sycamore Trail (Phase II/III) Extension Project
Additional information on grant programs overseen by the California Natural Resources Agency, including the Urban Greening Grant Program can be found at: http://resources.ca.gov/grants/.