New Ecopedal helps stop the spread of germs, bacteria and saves water in home-based faucets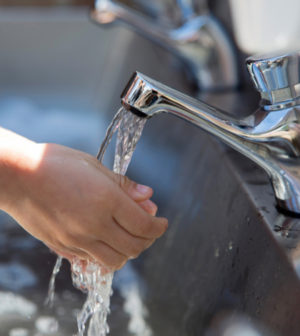 Redwood City-based Namu Earth has announced a new ecopedal to help prevent the spread of germs and bacteria in home-based water faucets. Additionally, the ecopedal is a water-savings device when utilizing the new products features.
Similar to a hospital-type device, the Namu Earth ecopedal allows users to bypass faucet handles to turn water on-and-off at kitchen and bathroom sinks. Instead water flow can now be activated by stepping on the ecopedal. This precludes touching faucet handles which, according to Web MD, can host more than 13,000 bacteria per square inch on its surface.
"We are pleased to launch ecopedal to stop the spread of germs and bacteria at home," said Grace Kee, who along with Emily Seo co-founded Namu Earth in 2015. "For decades, hospitals have used pedals to turn water on/off, which stops bacteria from spreading into operating rooms. In the same way, installing the ecopedal with current sink fixtures can stop the spread of germs and bacteria to faucet handles – and to the rest of your home."
Water savings for the average household is significant at up to 52 gallons of water a day. Instead of using a faucet's handles the ecopedal is positioned under a kitchen or bathroom sink and features two different water flows. The right side is the responsive flow feature: water is activated when the user maintains a foot pressed down on the ecopedal and water stops once the step is released. The left side is continuous flow and water flow is activated by tapping on the ecopedal. When tapped again the water flow stops. According to the EPA, the average American household uses more than 400 gallons of water a day.
According to a Namu Earth press release, "The ecopedal can also help households reduce water consumption. For example, just by taking one step away from the sink while shaving, brushing your teeth or rinsing dishes will automatically turn off water. This small movement – stepping off the ecopedal – stops water from running constantly when you aren't using it. Coming out of the worst drought period in California's state history, we believe even small steps can help conserve water."
The ecopedal is now available for pre-order, via its Kickstarter campaign. The earliest best price is $139 for the ecopedal. The campaign will end Tuesday, June 21 at 10am PDT. The company has not yet provided additional information as to when and where the ecopedal will be available after its Kickstarter campaign has ended.