Reclamation funds used by Inland Empire School Districts for water-wise gardens and landscaping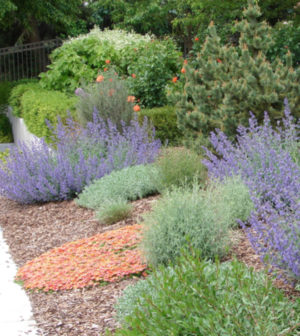 More than 200 elementary school students recently joined with officials from Val Verde Unified School District, Eastern Municipal Water District (EMWD) and the U.S. Bureau of Reclamation to celebrate the dedication of a new water-wise garden at Columbia Elementary School.  Reclamation provided significant grant funding toward a larger federal umbrella program aimed at making schools more water efficient and reducing water use in schools.
"We are proud to have worked with our local schools and the Bureau of Reclamation on this program that will help save water for many years to come," EMWD President David Slawson said. "Just as important, the students were able to play an active role in creating this garden and have learned valuable skills that will help them better understand the value of water and how enjoyable water efficient landscaping can be."
EMWD secured $1.4 million in grant funding from the Bureau of Reclamation to support several water-savings initiatives — turf-to-garden programs, water efficient devices such as irrigation controllers and water-saving sprinkler nozzles and turf removal that will result in more than 500,000 square feet of ornamental turf being converted to regionally appropriate landscaping. All of the grant funds EMWD received from Reclamation have been exhausted.
The Columbia Elementary School garden was planted and will be maintained by the school's students with the support of school district staff. The garden program was offered to all schools within EMWD's service area. Three other schools within the Val Verde District – Triple Crown, Vista Verde and May Ranch elementary schools – are anticipated to complete their gardens in the coming months.
EMWD Reclamation grant funding was also used to help other schools become more efficient with their landscaping. Turf removal programs are underway at several Inland Empire school districts. However, the areas targeted for turf removal are not active recreational areas on the school sites. EMWD has worked with the facility and maintenance teams at all of the school districts to identify areas at school sites that have grass with no functional benefit. Examples are grassy berms in areas where students do not recreate, ornamental turf in small areas, or areas between sidewalks and streets. Currently Hemet Unified School District, Menifee Union School District, Moreno Valley Unified School District, Romoland Unified School District, San Jacinto Unified School District along with the Val Verde District are undertaking turf removal programs that are supported through the Bureau of Reclamation funds.
EMWD has assembled a host of water-wise activities and partnerships for schools and school districts within its boundaries including award-winning programs including field trips, classroom education programs, school assemblies and various water-themed contests each year.
"Val Verde Unified is proud to have partnered with EMWD on this important program that will not only allow us to save water, but also help our students learn about environmental responsibility," Val Verde Superintendent Michael McCormick said. "This water efficient garden will have a long-lasting impact and allow us to do our part to ensure we are helping to conserve water for future generations.