Student art contests announced by two Southern California water districts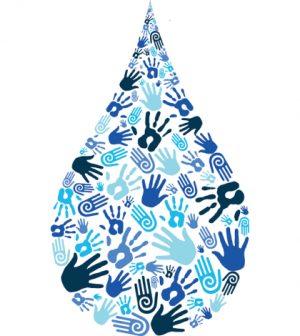 Student art contests can provide an opportunity for children to learn about water, conservation and our dependence on this limited resource. Two Southern California water districts are now offering this opportunity to youngsters in their districts this winter/spring.
Foothill Municipal Water District (FMWD), based in La Cañada Flintridge, has announced its 6th annual K-12 student art contest with the theme of "Water Is Life."  The contest is open to youth in schools located in La Crescenta-Montrose, La Cañada Flintridge and Altadena.
Entries for the FMWD art contest will be divided into three groups – grades K-3, 4-6, 7-12 – prior to judging.  The winning entry for each group will receive a $100 prize and the sponsoring teacher will receive a $50 gift card. Metropolitan Water District (MWD) of Southern California is co-sponsoring the FMWD art contest and all winning entries will be submitted to MWD for a second round of competition for possible inclusion in the 2018 "Water Is Life" Student Artwork Calendar.
Deadline for entries is Monday, April 3, 2017, including postmarked submissions.  Late entries may be accepted at the discretion of Foothill MWD.  For further information about the contest, including all rules, judging criteria, and other prizes, please go to: http://www.fmwd.com/uploads/files/FMWD-2017-Water-Is-Life-Contest-Packet.pdf.
West Basin Municipal Water District (WBMWD) is also sponsoring a "Water is Life" art contest for local school children in conjunction with MWD of Southern California. WBMWD's art contest is open to students in 3rd through 12th grades attending schools in West Basin's service area including Carson, Culver City, El Segundo, Gardena, Hawthorne, Hermosa Beach, Inglewood, Lawndale, Lomita, Malibu,   Manhattan Beach, Palos Verdes Estates, Rancho Palos Verdes, Redondo Beach, Rolling Hills, Rolling Hills Estates and West Hollywood.
Entries for WBMWD's contest can include crayons, markers, pencils, paint, pastels, cut paper, fabric and other mediums. Students are encouraged to depict wise uses of water in their daily lives. In order to enter the contest students must first visit WBMWD's website at www.westbasin.org, view the "Be a Water Detective" game and answer three questions to be submitted with their entry.
One grand prize each will be awarded in the elementary, middle and high school categories. The grand prize will be an iPad Air 2 $25 gift card for Art Apps to download, and a stylus. Up to four honorable mention awards will be awarded in the same school categories. The honorable mention awardees will receive an iPad Air 2 and a list of Top 10 Art Apps to download.
All artwork submissions must be postmarked by March 17, 2017. Entries can be mailed in or hand delivered by 5 p.m. before or on the deadline date to:
West Basin Municipal Water District
Attn: Darryl Ramos-Young
17140 S. Avalon Blvd. Suite 210
Carson, CA 90746
WBMWD's winning artwork may be reproduced on agency water conservation promotional materials during the year.  For additional information, specifications on developing, producing and submitting artwork along with entry forms can be found at: http://www.westbasin.org/.