Volunteers Collect More than 367 Tons of Trash on 34th Annual California Coastal Cleanup Day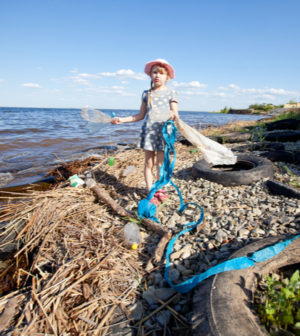 Though its name is the California Coastal Cleanup Day, some 367 tons of trash was collected along beaches and shorelines – plus numerous inland waterways – during the 34th Annual California Coastal Cleanup Day on Saturday, Sept 15. More than 53,000 volunteers statewide turned out from 9 a.m. to noon at over 1,000 sites in 55 of California's 58 counties reaching as far inland as Lake Tahoe.
"We had a fantastic day along our coast and inland waterways that flow to the ocean from every corner of the state" said Jack Ainsworth, executive director of the California Coastal Commission (CCC). "In only three hours, tens of thousands of Californians removed hundreds of tons of trash from our environment. It's truly amazing what we can accomplish when we work together to protect our coast and ocean."
The one-day event was presented by the California Coastal Commission as part of the International Coastal Cleanup organized by Ocean Conservancy. Cleanups took place up and down the coast, from the Oregon to Mexico border.
On specific cleanup site saw more than 700 watershed volunteers turn out for the South Yuba River Citizens League's (SYRCL) 21st Yuba River Cleanup. Initial tallies from SYRCL's 32 sites — from the headwaters along Donner Summit to the confluence of the Yuba and Feather Rivers – more than 700 volunteers removed more than 13,000 pounds of garbage and recyclables from 85 miles of rivers, creeks and lakes.
"It is great to see our community coming together to clean our beloved rivers and creeks," said Daniel Belshe, SYRCL's community engagement manager. "So many people came away from the cleanup exhausted but beaming with smiles. We can't thank each of them enough for all their hard work and dedication.
"Many volunteers mentioned they had picked up less trash than years before at many locations such as Bridgeport, Highway 49 and Edwards Crossing. We hope this is due to the dedication of our summer River Ambassadors program and that Yuba visitors are paying closer attention to the rule of thumb, 'Pack it in, Pack it out.'"
According to the CCC and past cleanup data, 75 percent of the debris that volunteers removed was composed of plastic, a material that never completely biodegrades and has numerous harmful consequences in the environment. Plastic debris can kill wildlife, leach toxins into waterways, land and air. Since up to 80 percent of the trash on the California coast originates on land, volunteers across the state helped prevent enormous amounts of trash from ever reaching the ocean, no matter where they participated.
In addition to all the plastic debris, and the more traditional and expected trash such as cigarette butts, flip flops, used diapers and food debris, a wide array of trash was also found by volunteers. These include such items as car parts, computer monitors, a hot water heater, refrigerators, roofing tiles, sofas and tires. According to the CCC the winners of the 2018 Most Unusual Item contest in Northern California was a painting of a marsh, found in a marsh in Marin County. In Southern California the winning item, found in Los Angeles County, was a Coca-Cola can from 1963. Both winning items were found by volunteers.
Volunteers for the Coastal Clean-up Day included individuals, families, more than 60 non-profit organizations, local government entities, and businesses like first-time sponsors Visa and the California Tobacco Control Program who provided volunteer support. The CCC's early tally of statistics for the day's efforts statewide was that the more than 53,000 volunteers collected 698,931 pounds of trash and an additional 35,674 pounds of recyclable materials, totaling 734,606 pounds or 367 tons. Great job California volunteers. Many thanks to each one of you!