Water conservation is not a thing of the past – see DWR's State Fair exhibit for new ideas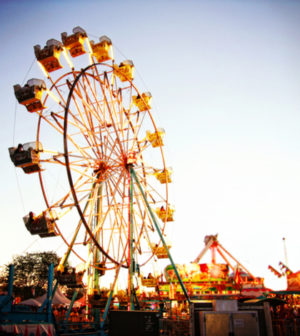 "Water Conservation: Rain or Shine" is the theme of the Department of Water Resources' (DWR) 2017 California State Fair exhibit. And despite the abundant precipitation the state received in Water Year 2016/17, conservation is still critically important in California. The state's underground aquifers are still in need of replenishment and who knows when the next drought will descend upon us. Still too, climate change will likely have an impact on our water supply.
Information on a wide variety of water topics, including the need for continued water conservation, will be part of DWR's exhibit at the California Stte Fair underway now through July 30. The exhibit, located in the Farm area highlights the many reasons that Californians should continue a lifestyle of water conservation.
DWR contends that the most effective way to cut water consumption is by replacing a home's green lawn with a low-water-use landscape. Lawn watering can account for 50 percent or more of an urban household's water usage.
The "Water Conservation: Rain or Shine" exhibit features:
Step-by-step instructions on how to remove one's lawn and replace it with water-wise or edible landscaping;
Information about how to access up to $2,000 in rebates for a lawn replacement project;
Demonstration gardens of water-wise plants and flowers that attract pollinators and beneficial insects;
Brochure identifying more than 50 water-wise plants and flowers featured in the exhibit;
Information on maintaining the health of our valuable trees;
Activities for kids and adults alike, including a water-wise garden quiz to earn poppy seeds
The DWR is also offering Kids Day(s) at the Fair on Tuesday, July 18 and Wednesday, July 25. Staff from the Department of Water Resources will be at the Farm from 11:00 a.m. to 4:00 p.m. to help kids make a wick-watering planter and take home a water-wise or edible plan. Conservation information is key for both children and adults.
DWR is also presenting an exhibit at the state fair to raise awareness about invasive quagga mussels and the threat they present to California's waterways complete with a supersized sculpture of a quagga mussel. Quagga mussels were first discovered in western U.S. waterways in 2007 in Nevada's Lake Mead. Subsequently Quagga mussels have been found in Lakes Mohave and Havasu in the Colorado River and in the Colorado River Aqueduct System which serves Southern California. Surveys in August 2016 found quagga mussels in Lake Dixon and San Vicente Reservoir in San Diego County. Due to their invasive nature, all reservoirs, lakes and watersheds receiving raw Colorado River water have been exposed to quagga mussels.
Quagga mussels and the closely related zebra mussel are non-native aquatic mollusks that can wreak havoc on the environment by disrupting the natural food chain thereby posing an economic threat in California. The mussels are filter feeders that can cause a shift in native species and a disruption of the ecological balance of entire bodies of water.
The California State Fair is held in Sacramento at Cal Expo at 1600 Exposition Blvd. The main gate is located on Exposition Boulevard and Heritage Way. The DWR water conservation exhibit is located in The Farm adjacent to Building B.