American Society of Civil Engineers honors Los Angeles DWP with two awards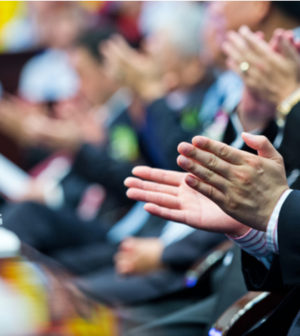 The American Society of Civil Engineers (ASCE), Metropolitan Los Angeles Branch, recently presented two awards to the Los Angeles Department of Water and Power (LADWP) for their work on the City Trunk Line South SEM Tunnel Project. ASCE presented the honors to LADWP as part of their Awards Night on Friday, Aug. 4 at the Dorothy Chandler Pavilion.
"We've always known that our employees are among the best in the industry, and to be recognized by their own peers confirms that," said LADWP General Manager David H. Wright. "I am beyond proud of their accomplishments and congratulate them for yet another trailblazing method that ensures reliable water and excellent customer service."
ASCE presented LADWP with the Outstanding Water Project award and the Outstanding Construction Project recognition for the City Trunk Line South SEM Tunnel Project. The project is part of the new City Trunk Line South, which is 48,000 feet in length. It involved the digging of a tunnel 252 feet in length under the Tujunga Wash, which connects to the LA River. The entire City Trunk Line, both north and south portions, runs from the LA Reservoir to the Franklin Reservoir and provides water to the Mid-City area.
LADWP used the Sequential Excavation Method (SEM), also known as the New Austrian Tunneling Method. Referred to as a "design as you go" or "design as you monitor" method, it allows engineers and construction crews to evaluate soil conditions as the tunneling is happening. It was used for the LADWP Water System project in order to exercise caution around bridge abutment piles near the tunneling path. It is a method often used in the transportation industry.
"We're extremely proud to receive these awards," said Richard Harasick, LADWP Senior Assistant General Manager, Water. "LADWP has always been committed to hard work, dedication and ingenuity when it comes to challenging projects like this one, and we thank the American Society of Civil Engineers for this recognition."
LADWP team members involved in the Tunnel Project included: Elene Chong, Kaushal Parbhoo and Randall Hirata, Trunk Line Design; Philip Lau and Ruwanka Purasinghe, Geotechnical Engineering Group; Richard Cabajal, Manuel Longoria and Kevin Thomas, Construction Management; and John Huynh, Regina Peng and Christopher Munis, Project Management.  The LADWP winners will now compete for the Society's regional awards along with other area winners from Southern California. The awards will be announced in October.
The City Trunk Line projects are part of a larger effort to replace the original City Trunk Line, which was built in 1914 with riveted steel pipe. The City Trunk Line is yet another component of the DWP's mission to improve reliability in the water system and to provide safe drinking water for the department's customers.