Conservation District appoints Steve Sentes as new Executive Director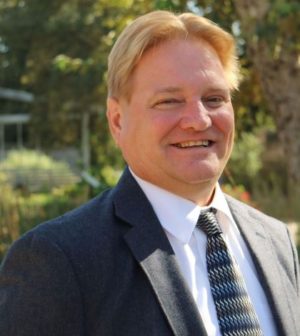 Veteran restoration and watershed manager Steve Sentes, most recently of the South Florida Water Management District (SFWMD), has been appointed as executive director of the Chino Basin Water Conservation District (CBWCD). Sentes most recent position was managing programs to protect Florida's Northern Everglades while concurrently balancing the needs of agricultural and urban users.
"Mr. Sentes offers an impressive track record of achievement, having overseen many programs aimed at improving water quality through the innovative water storage, re-use and storm water projects," said CBWCD Board Chairman Terry King. "To this new role, he will bring on-the-ground experience developing and strengthening relationships with local partners and a wide variety of stakeholders to help us meet our goal of protecting the Chino Groundwater Basin to ensure current and future water needs are met."
Sentes assumed his new position with CBWCD on Sept. 18 although working remotely; his first day in the district's Montclair office was Oct. 2. Sentes is replacing former CBWCD Executive Director Eunice Ulloa who retired in June after 12 years in the district's top management position. Ulloa is the current mayor for the city of Chino.
While saying he is honored and excited about his new role with conservation district, Sentes said, "CBWCD is poised and ready to build on its long legacy of stewardship in the Chino Basin, continuing to evolve just as land use in this region has evolved over the years. Leading CBWCD allows me to build on my public service career and use my experience in managing and resolving complex and diverse water and environmental issues."
District Chairman King acknowledged Sentes skill in relationship-building and working with diverse communities saying, "Steve is an expert facilitator able to develop consensus among diverse stakeholders, even when issues are complex and contentious. He is a firm believer in the strength of relationships and building new partnerships while implementing innovative and cutting-edge watershed programs."
King continued saying, "His background in creating strategic partnerships, as well as in the development of and advocacy for large regional water and stormwater initiatives, will be vital to the district's future as we rise to the challenges of advancing our mission and communicating about our work."
Prior to his new position with CBWCD Sentes worked for SFWMD in Fort Myers, Florida, for 35 years. Sentes rose through the ranks from a regulatory professional responsible for developing the first non-point source pollution program in the U.S. in the early 1990s to becoming a programs manager overseeing a broad array of planning and restoration projects in the Florida's Northern Everglades. He built a reputation for consensus building among landowners, environmental groups and Indian tribes as well as agencies at the federal, state, county and city levels.
Sentes earned an M.S. in management and B.S. in environmental science from Barry University in Miami Shores, Florida, concurrently in 1995. He and his wife, Cindy, have now settled in Upland.