February's Manual Phillips Station Snow Survey: 50 inches of snow depth, 98 Percent of Average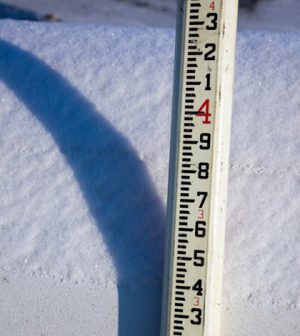 When it comes to California's snowpack thus far this year it seems to be safe to say, 'so far, so good.' In comparison to the Feb. 1, 2018 manual measurement at Phillips Station, Thursday's measurement at the same location witnessed a year over year improvement of 14 percent of average versus 98 percent of average.
"The snowpack across California is on par with the historical average for this time of year, thanks in no small part to an atmospheric river that brought heavy snowstorms to the Sierra Nevada. Typically, California relies on a handful of large storms like we saw earlier this year." said Department of Water Resources (DWR) Director Karla Nemeth. "It's a start, but the next two or three months will determine what it means for our reservoirs and overall water supply."
The manual survey recorded 50 inches of snow depth and a snow water equivalent (SWE) of 18 inches. Last year's statistics this time of the year showed only 4.6 inches of snow and a SWE of 2.6 inches. Statewide, the Sierra snowpack is 100 percent of average.
DWR conducts five snow surveys each winter – near the first of January, February, March, April and May – at Phillips Station in the Sierra Nevada just off Highway 50 near Sierra-at-Tahoe. The Phillips snow course is one of hundreds that is surveyed manually throughout each winter.
Manual measurements augment the electronic readings from about 100 snow pillows in the Sierra Nevada that provide a current snapshot of the water content in the snowpack. DWR also conducts on-going electronic readings from some 100 stations scattered throughout the Sierra. These readings provide a more accurate and comprehensive than the monthly manual survey at Phillips Station.
Together the two methods provide a current snapshot of the water content in the Sierra Nevada snowpack. On average, the Sierra snowpack supplies about 30 percent of California's water needs as it melts in the spring and early summer to meet water demands statewide in the summer and fall.
"The data we collect allows us to forecast how much snowmelt will run off into our streams and reservoirs," said John Paasch, chief of DWR's Hydrology and Flood Office. "Snowpack is an important factor in determining how DWR manages California's water resources each year to sustainably meet demands."
DWR has conducted manual snow surveys at Phillips Station since 1964, tracking both depth and snow water equivalent. Snow water equivalent is the depth of water that theoretically would result if the entire snowpack melted instantaneously. That measurement allows for a more accurate forecast of spring runoff.