Feds call for drought contingency plans be put into effect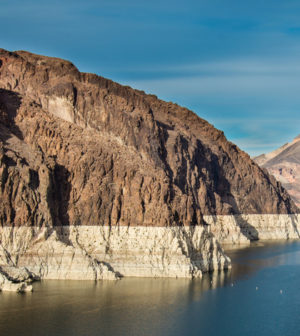 By Jim Steinberg
WASHINGTON>>Record-low snowpack levels in the Colorado River Basin means Lake Powell runoff will amount to just 42 percent of the historical average this year, experts say.
With the drought and its related low runoff condition going back 18 years, federal officials say the current period is one of the worst drought cycles in more than 1,200 years.
While many have already experienced hardships, a crisis has been averted due to the federal Reclamation infrastructure, including reservoirs like Lake Powell.
The infrastructure built by prior generations is working, federal officials said earlier this month.
"We need action and we need to take it now," Reclamation Commissioner Brenda Burman said in a statement.
"We can't afford to wait for a crisis before we implement drought contingency plans," she said.
She called for all the Colorado River Basin states to put effective drought contingency plans into effect before the end of 2018.
Last year the United States and Mexico agreed to a strategy that would lead to increase water savings by Mexico, but those plans would only go into effect if Arizona, California and Nevada finalize their drought contingency plans.
"Adaptation of additional water conservation measures now is the best approach to protect Lake Mead as we continue to work on long-term solutions," said Lower Colorado Regional Director Terry Fulp.
Bart Fisher, California's Colorado River Commissioner, said "California's Colorado River agencies recognize the poor hydrologic conditions within both California and the Colorado River Basin and remain fully committed to collaborate with our partner states in completing the Lower Basin Drought Contingency Plan…"