Gov. Brown lifts drought state of emergency for all but four California counties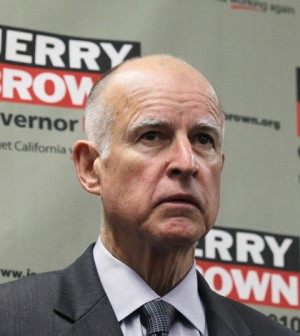 After five-plus years of punishing drought in the state, the drought is over – for all but four California counties. Fresno, Kings, Tulare and Tuolumne counties will continue with emergency drinking water projects to help address diminished groundwater supplies as one of many consequences statewide due to the drought.
Thanks to plentiful rain and snow throughout the state in early water year 2016-17, reservoirs are full, ski slopes have welcomed back the crowds, snowplows have been put back to work, and early spring has burst forth with green lawns and amazing blooms from tree and bushes without activating sprinklers. But Gov. Brown and representatives of state water agencies spoke cautiously:
"This drought emergency is over, but the next drought could be around the corner," said Gov. Brown. "Conservation must remain a way of life."
California Department of Water Resources Acting Director Bill Croyle had similar words of caution saying, "Technically, the drought is over, but…careful, sparing use of water from backyards to businesses and farm fields will help us endure the next inevitable drought."
In addition to maintaining a drought status for the four central California counties, Gov. Brown has maintained two other actions from previous drought declarations:
The State Water Resources Control Board will maintain urban water use reporting requirements and prohibitions on wasteful practices such as watering during or after rainfall, hosing off sidewalks and irrigating ornamental turf on public street medians.
The state will continue its work to coordinate a statewide response on the unprecedented bark beetle outbreak in drought-stressed forests that has killed millions of trees across California. Drought-weakened trees have become prey for bark beetles and resulted in at least 70 million dead trees according to the publication CALmatters.
California's recent multi-year, historic drought included the driest four-year period, the warmest three years and the smallest Sierra snowpack in state history. Conversely, this winter's storms created one of the highest precipitation totals in the last 150 years. Climate change is responsible for increasing average temperatures, decreasing the Sierra Nevada snowpack while creating more extreme droughts and storm events. California's climate has been acknowledged as the most variable in the nation and naturally swings between flood and drought.
In light of these extremes, Gov. Brown and five state agencies – the Department of Water Resources, the California Energy Commission, the California Department of Food and Agriculture, the Public Utilities Commission and the California Water Boards/State Water Resources Control Board – released a long-term plan to better prepare the state for future droughts and make conservation a California way of life.
The plan seeks to move the state from the temporary, emergency conservation measures in effect during the drought to a more durable approach that will ensure all communities are improving water use efficiency and extending their supplies. These measures will help achieve a top priority in the Governor's Water Action Plan – to "make conservation a California way of life."
Central to the plan is a requirement that the state's 410 urban water suppliers meet new water use targets. Other key elements of the plan include:
Bans on wasteful practices, such as hosing sidewalks and watering lawns after rain.
Technical assistance, financial incentives and standards to guide water suppliers' efforts to detect and repair leaks.
Requiring urban water suppliers to prepare water shortage contingency plans, including a drought risk assessment every five years.
Requiring more agricultural water suppliers to submit plans that quantify measures to increase water use efficiency and develop adequate drought plans.
Monthly reporting by urban water suppliers on water usage, conservation achieved and enforcement efforts
Improved drought planning for small water suppliers and rural communities.
"Californians stepped up big time during the drought," said Felicia Marcus, chair of the State Water Resources Control Board. "This plan allows us to build on that success and prepare for the longer and more frequent droughts we know are coming under climate change, in a way that is equitable and cost-effective. Efficiency is the cheapest and smartest way to extend our water resources."