Governor Adds Eight More Counties to State of Emergency Declaration Due to Winter Storms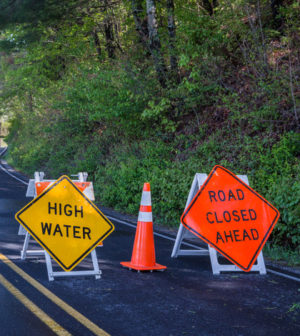 California Governor Gavin Newsom has issued an emergency proclamation for an additional eight counties due to extensive damage from severe February atmospheric river storm systems which caused widespread damage and flooding. Newsom's Proclamation of a State of Emergency noted that "…  conditions caused by these storms, by reason of their magnitude, are or are likely to be beyond the control of the services, personnel, equipment, and facilities of any single local government and require the combined forces of a mutual aid region or regions to appropriately respond."
The emergency proclamation for Butte, Colusa, Del Norte, Mariposa, Napa, Santa Cruz, Solano and Tuolumne counties has been called to aid these areas in recovering from the February storms. Gov. Newsom had originally issued a Feb. 21 emergency proclamation for Calaveras, El Dorado, Humboldt, Los Angeles, Marin, Mendocino, Modoc, Mono, Monterey, Orange, Riverside, San Bernardino, San Diego, San Mateo, Santa Barbara, Santa Clara, Shasta, Tehama, Trinity, Ventura, and Yolo counties following multiple atmospheric river systems that began on Jan. 5 and continued, intermittently, throughout February.
In addition to adding the eight additional counties to the list of California counties battered by one of the wettest winters in recent history, Gov. Newsom on Saturday also reached out to President Donald Trump to request Presidential Major Disaster Declarations to bolster ongoing state and local recovery efforts from the widespread flooding, mudslides and damage to critical infrastructure throughout California in February.
In his letter to President Trump Gov. Newsom cited some of the most severe damage due to the Feb. 13 to 15 and the Feb. 24 to March 1 atmospheric storms including the flooding that occurred when the Russian River topped its banks and flooded the town of Guerneville resulting in the evacuation of thousands and damage to hundreds of homes. The Russian River flooding also inundated the Cloverdale Municipal Airport, a water treatment facility, part of the Sonoma Valley Hospital and damaged multiple access roads.
A water reclamation facility in the city of Healdsburg was significantly impacted when floodwater and debris damaged its pumps and filtration panels, and submerged most of the facility's electrical systems.
Gov. Newsom's letter to President Trump included more than a dozen examples of damage and destruction to public facilities and systems — especially highly traveled access roads, drainage systems, city sewer systems and a regional transit center (including racks, base and ballast). Flooding and debris flows inundated two water control facilities to a San Bernardino county water district and damaged a sewer system threatening public health and safety.
Although these examples are appalling in and of themselves, they do not begin to account for the hundreds of homes and businesses that were damaged or destroyed as a consequence of February's atmospheric river storm systems. Assistance was provided initially for these individuals and families by the American Red Cross, private non-profit organizations and various faith-based groups, many people are just now beginning the long process of re-establishing homes and businesses.
The Newsom-to-Trump letter indicates that "total assessed damages are expected to exceed $100 million for the February 13 to 15 atmospheric river storm system and $57 million for the February 24 to March 1 system, which are both in excess of California's indicator for assistance."
Should President Trump declare a Presidential Major Disaster Declaration to aid California in its recovery, Gov. Newsom has appointed Mark Ghilarducci as the State Coordinating Officer to work with the Federal Emergency Management Agency (FEMA). Ghilarducci is California's director of the Office of Emergency Services (OES).