Marin Municipal Water District Reports Encouraging Spawning for Coho Salmon, Steelhead Trout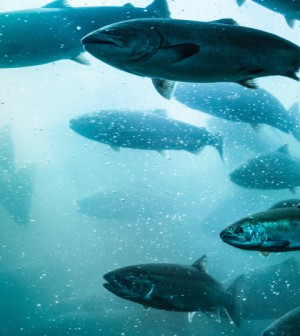 Initial reports from Marin Municipal Water District (MMWD) for this year's coho salmon and steelhead trout spawning is showing significant increases over prior years thanks to years of work by the water district and other Northern California groups., MMWD, based in Corte Madera, says both species are showing some of the greatest — if not the best—results based on the number of redds since systematic surveying began. Redds refer to the spawning nest that is built in the gravel of streams or the shoreline of lakes by salmon and steelhead. Females use their tails to dig in a small area of gravel in the bottom of the stream or shore to lay their eggs and die.
MMWD has shared in their blog that surveyors from the water district, along with personnel from the Watershed Stewards Program, National Park Service, and the Salmon Protection and Watershed Network, have counted 324 coho redds, making this the sixth-largest run since systematic surveys began in 1996. This reflects three-year-old salmon that have migrated back to their birth place to spawn their offspring. Hence, this year's spawning fish were born in Marin County creeks in 2015-16.
The 324 coho redds are 10 percent larger than their parent's generation, 70 percent larger than their grandparent's (2012-13), and 400 percent larger than the run of their great-grandparents (back in 2009-10). This year's run is the sixth-largest run since systematic surveys began in 1996.
"Many organizations and individuals have worked tirelessly for years to improve fish habitat in the creeks of Marin County, and it's gratifying to see so many salmon returning to those creeks," said Eric Ettlinger, an aquatic ecologist for the MMWD. "After looking at where the population was just a few years ago I'm actually quite happy that it's grown so much."
The coho spawning season typically runs from November through January, and this year's run is ending on schedule. Only nine spawned-out coho were seen last week and no coho were seen this week.
As for the steelhead trout – their run appears to be on track to be one of the largest on record. February is peak spawning time so the 65 steelhead redds that have been seen, thus far, are just the start of the season but reflects a record in the Marin County area. With the additional rain expected this week conditions may continue to improve for steelhead spawning.