Measurement reveals snowmelt to provide abundant water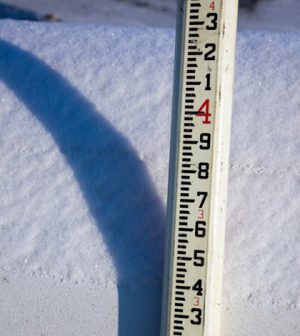 The fourth monthly measurement of the state's snowpack was no surprise earlier this week when Frank Gehrke, chief of the California Cooperative Snow Surveys Program, conducted the reading at the Phillips Station in the Sierra Nevada for the state's Department of Water Resources (DWR). The manual reading found a snow water equivalent (SWE) of 46.1 inches or 183 percent of the historical average.
The SWE is a more important measurement than snow depth when evaluating the status of the snowpack. SWE is the depth of water that would supposedly result if the entire snowpack melted instantaneously.
The Phillips snow course, near the intersection of Highway 50 and Sierra-at-Tahoe Road, is one of hundreds surveyed manually throughout the winter. Manual measurements, along with electronic readings from some 100 sensors in the state's mountains, provide the assessment of the SWE in the snowpack.
Electronic readings from 95 sites in the Sierra Nevada show an average statewide snow water equivalent (SWE) of 45.8 inches, or 164 percent of the historical average for March 30 (27.9 inches). More specifically, the electronic measurements indicate the water content of the northern Sierra snowpack is 40.8 inches, 147 percent of the multi-decade March 30 average. The central Sierra is reporting 50.5 inches (175 percent of average) while the southern Sierra is posting a total of 43.9 inches (164 percent of average).
Gehrke summed up his findings this week, saying, "The storm track shifted away from California during March, but we still have a very substantial snowpack, particularly in the higher elevations in the central and southern Sierra. This is an extremely good year from the snowpack standpoint," he said, adding that this year's snowpack ranks in the upper quarter of historic snowpacks and is providing "great reservoir recovery."
But while many Californians are cheering the reversal of California's five-plus year drought some Central Valley residents are still dependent on water tanks and bottled water. Depleted wells from groundwater over-drafting have left these residents with no option but to rely on trucked-in water deliveries for their most basic residential water needs.
Additionally, fears of massive flooding from the spring and summer snowmelt are a very real threat. Throughout the Owens Valley, crews are racing against the clock to shore up a vulnerable aqueduct system along with streambeds, culverts, reservoirs and concrete channels. In light of these concerns, Los Angeles Mayor Eric Garcetti has pre-emptively issued an emergency declaration allowing the Department of Water and Power to take immediate steps to reinforce the aqueduct system.
State Climatologist Dr. Michael Anderson summed it up, saying, "Although the record pace of the snowpack accumulation fell off significantly in March, California enters the snowmelt season with a large snowpack that will result in high water in many rivers through the spring."