Rowland Water District named finalist for 2017 Huell Howser Best in Blue Award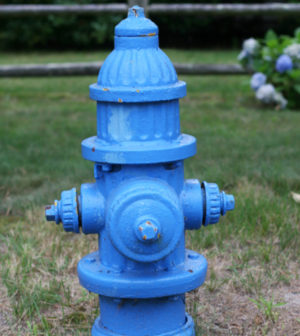 Southern California's Rowland Water District (RWD) initiated a first-of-its-kind fire hydrant improvement and painting initiative in January 2016, in partnership with OPARC, a non-profit organization that facilitates meaningful employment opportunities for adults with disabilities in Southern California. OPARC (formerly known of as the Ontario-Pomona Association of Retarded Citizens) was founded in 1950 and today serves more than 800 developmentally disabled adults in Southern California with case management, education, services, and employment.
RWD's fire hydrant program all them to invite four developmentally disabled adults to join their workforce. The new employees were paid more than twice what they would receive from government subsidies and in receiving $15 per hour it was nearly $5 more than California's current minimum wage. In the first year of the program the four OPARC/RWD employees repainted more than 1,000 fire hydrants and had meaningful, well-paying jobs.
RWD has been named a finalist for the Association of California Water Agencies' (ACWA) 2017 Huell Howser Best in Blue Award. The award recognizes innovative programs by public water agencies to meet outreach goals.
"The program not only gave participants a sense of achievement and pride in their work, it nurtured a remarkable spirit of community within the District and region," Rowland Water District General Manager Tom Coleman said. "We are honored to be recognized as a finalist for the ACWA award."
Initiating the fire hydrant improvement program allowed RWD to meet its strategic communication goals of prioritizing opportunities to benefit all partners, broadened the definition of community through additional outreach projects and created internal messaging that enhances staff morale and experiences.
"The District saw this as an opportunity to directly and positively enhance the lives of individuals with special needs by providing them with professional development opportunities and to raise awareness of the many challenges they face," shared RWD Board President Szu Pei Lu-Yang.
The district's fire hydrant jobs program received special recognition from multiple elected officials including state senators Connie Leyva (D-20th District-Chino) and Mike Morrell (R-23rd District-Rancho Cucamonga) and state assembly members Chad Mayes (R-42nd District-Rancho Mirage), Freddie Rodriguez (D-52nd District-Chino), Marc Steinorth (R-40th District-Alta Loma) and former state assembly member Eric Linder (R-60th District).  Neighboring water agencies – La Puente Valley County Water District and Walnut Valley Water District – have since partnered with OPARC with their own programs.
The winner of the 2017 Huell Howser Best in Blue Award will be announced Nov. 29 at the Association of California Water Agencies' Fall Conference & Exhibition at the Anaheim Marriott. The winning projects and programs will quantifiably meet their agency's public information, communications or outreach goals in an innovative way while making effective use of available resources. Recent past winners have included: Joshua Basin Water District (2016), Dublin San Ramon Services District (2015), Cucamonga Valley Water District (2014), city of San Diego (2013) and the city of Sacramento (2012).