Santa Clarita Valley Water Board of Directors approves expedited testing of treatments for PFAS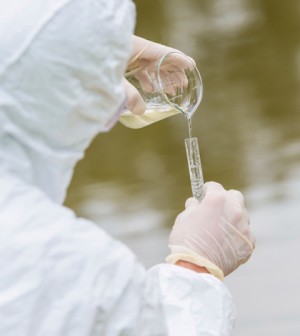 In a proactive move the Santa Clarita Valley (SCV) Water Board of Directors recently approved expedited testing of treatment options for per- and polyfluoroalkyl substances (PFAS), which were recently found in groundwater in SCV's service area. The action decision was made in response to the State Water Resources Control Board – Division of Drinking Water's (DDW) interim notification and response level monitoring requirements.
Water Quality & Treatment Solutions, Inc. of Canoga Park has been selected by SCV Water to expedite bench scale testing of PFAS treatment options focusing on two treatment options. The first option is based on running water collected from affected wells through both granular activated carbon adsorption; the second option is synthetic ion-exchange adsorption processes.
"We are dedicated to maintaining water quality that meets all standards," said SCV Water's General Manager Matt Stone. "Taking immediate action to expedite testing will not only help us determine the best long-term technology to remove PFAS from our groundwater supply, but will also provide us with information needed by DDW to permit the treatment system in the future."
Per- and polyfluoroalkyl substances (PFAS) are a group of manmade chemicals that are prevalent in the environment. They were previously a commonly used substance in industrial and consumer products to repel grease, moisture, oil, water and stains. These chemicals enter the environment through treated wastewater discharges, landfills and areas where the substances were used outdoors.
According to the Environmental Protection Agency (EPA) PFAS have been manufactured and used in a variety of industries around the globe, including in the United States since the 1940s. PFAs can be found in: commercial household products, including stain- and water-repellent fabrics, nonstick products (e.g., Teflon), polishes, waxes, paints, cleaning products, and fire-fighting foams; workplaces including production facilities or certain industries such as chrome plating, electronics manufacturing or oil recovery products that use PFAS; drinking water, typically localized and associated with a specific nearby facility such as certain manufacturers, landfills, wastewater treatment plants, and firefighter training facilities; and, living organisms, including fish, animals and humans, where PFAS have the ability to build up and persist over time.
PFAs can also be found foods packaged in PFAS-containing materials, processed with equipment that used PFAS, or grown in PFAS-contaminated soil or water.
"Our customers come first, and we continue to vigilantly monitor our water quality and implement new strategies as needed to safeguard our water supply," noted Stone. "SCV Water has set up a team dedicated to developing a pre-emptive plan to address all aspects of the emerging PFAS issue, and we remain committed to transparently share up-to-date information on this topic with our customers."
Thus far, SCV Water has sampled 14 wells for PFAS this year. Of the wells tested, eight were above the interim notification levels and one exceeded the response level and was immediately removed from service. SCV Water is one of 200 plus water systems with more than 612 groundwater wells in California required to sample for PFAS chemicals.
SCV Water's "strike team" will formulate a sampling plan for all agency wells currently in service as well as investigating potential treatment options and other strategies that can put in place. SCV Water will continue to monitor the affected wells. The water district's next quarterly sample is scheduled for August 2019.