Energy Storage Project Earns Orange County Business Council's Best Public-Private Partnership Award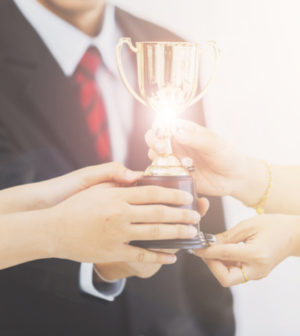 After having previously garnered the Golden Hub of Innovation Award from the Association of California Cities, Orange County and the Best Energy Program Award for medium utilities from the California Municipal Utilities Association, the Irvine Ranch Water District's (IRWD) Energy Storage Project has earned another prestigious prize for its public-private partnership. The Orange County Business Council recently presented its Best Public-Private Partnership Award to the project, honoring the collaboration between the IRWD, Macquarie Capital, Advanced Microgrid Solutions (AMS) and Southern California Edison (SCE).
The 6.25 MW/35.7 MWh network of high-efficiency lithium batteries have been installed at six IRWD water treatment, recycling and pumping facilities throughout the district. They will allow IRWD to buy and store electricity when rates are low, and then use that energy when rates are high to power operations during peak hours.
The project is one of the largest installations of its kind in the United States and addresses the water-energy nexus challenge within the water industry. IRWD, Macquarie Capital, Advanced Microgrid Solutions and Southern California Edison teamed up through the Energy Storage Project to fully address this concept. Through harnessing renewable energy sources, reducing demand on the power grid and saving money on the electricity needed to deliver water to customers, IRWD's customers — as well as the local region and beyond — are the beneficiaries.
The project is anticipated to annually save the district $500,000 or more in energy costs with no upfront investment. Plus, the installation provides a source of stored power for SCE to tap, when necessary, in order to avoid service interruptions. Renewable energy is being incorporated into the project for even more economic and environmental benefits.
The project was designed and is maintained by AMS. It uses AMS's industry-leading transactive energy management platform to produce the most efficient, reliable and cost-effective system possible. The Macquarie Group is the owner/operator of the energy storage system, which when built was the largest energy storage system for on-site power in the United States.
"Through these partnerships, IRWD developed an energy solution that not only saves money but improves the reliability of the grid for the region," IRWD General Manager Paul Cook said. "This project is an example of the broad benefits we can achieve when innovative public and private agencies work together."
IRWD and its Energy Storage Project partners shared the Orange County Business Council Public-Private Partnership Award top honors spotlight with the Orange County Department of Education, which was recognized for its OC Pathways program.