First Associate Vice President in Water and Sustainability appointed at Fresno State University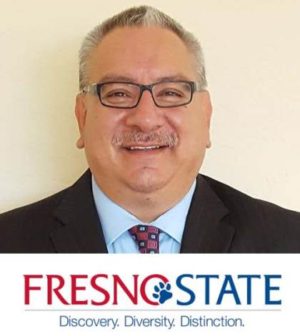 Fresno State University (FSU) has appointed its First Associate Vice President (AVP) in Water and Sustainability as part of its quest to solidify its reputation as a national leader in applied research on water. Thomas C. Esqueda currently serves as the director of Public Utilities for the city of Fresno, leading a team of 580 employees who provide water, wastewater, solid-waste and utility-billing services inside and outside the city's municipal-corporate limits for some 525,00 residents.
Esqueda has served the city of Fresno for nearly four years during which time he oversaw water-chemistry problems reported caused by treated drinking water at the city's Northeast Surface Water Treatment Facility. The situation apparently caused rust to occur in galvanized pipes in hundreds of homes.
"Thomas Esqueda brings a wealth of water experience in private industries, local and state government and higher education," said FSU Provost Lynnette Zelezny. "A high-energy leader, he is eager to champion our quest to be 'the Water University.'"
Esqueda's new responsibilities will include leading the University's efforts in developing, institutionalizing and strengthening water and sustainability programs across the campus and in the community. Under the general supervision of the provost, he will also assist in coordinating established academic, research and outreach activities that address critical agricultural, urban and environmental water and sustainability issues in the Central Valley.
The new AVP will also provide leadership for building and enhancing strategic partnerships with stakeholders including federal, state and local agencies; business leaders, community groups and regional organizations dedicated to promoting environmental sustainability; and various groups within the water industry.
Fresno State already has a robust water industry profile. Faculty, students and staff study water quality, conservation, delivery systems, drought-tolerant crops, recycling and supply development. The University, in partnership with both industry and government agencies, incorporates new technologies—satellite, infrared and computer—into its applied water research. The campus houses the Center for Irrigation Technology (CIT), the International Center for Water Technology (ICWT) and the Water and Energy Technology (WET) Center. The University also is a partner in Blue Tech Valley – an ambitious initiative to create a Silicon Valley-like hub of water research and development. Blue Tech Valley is an energy-water-food nexus incubator targeting the agricultural water/energy nexus, and allied industries, disadvantaged communities and other areas across northern and central California.
"Fresno State is at the heart of the most important agricultural region in the nation, and is committed to positively addressing water and agricultural issues," said FSU President Joseph I. Castro. "The challenges that we're facing in those areas are increasingly formidable, and it is more important than ever that we align our academic resources with the needs of California's Central Valley."
During an almost 30-year water-related professional career, Esqueda has managed water-related programs and projects for four of the largest consulting firms in the United States including Black & Veatch; CH2MHILL; Camp, Dresser & McKee; and, Brown and Caldwell. His public-sector experience includes four years outside of California as the director of Environmental Services for Wake County Government in Raleigh, North Carolina, and two terms as a commissioner for the State of North Carolina Sediment Control Commission.
"Throughout my 29-year career, I have worked with communities around the country to solve water challenges, and this opportunity to combine my experience with the commitment and passion of the Fresno State community is an ideal match," said Esqueda.
Esqueda is a native of Central California's town of Sanger. He is a graduate of San José State University with a bachelor of science degree in civil engineering and a minor in humanities.