Helix Replaces Dock at Lake Jennings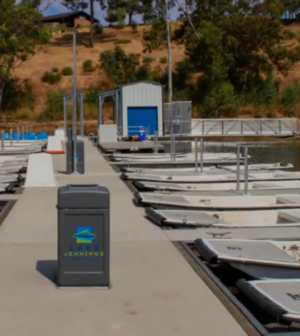 Helix Water District
Helix Water District recently celebrated the replacement of the wood dock at Lake Jennings, the district's reservoir and recreation facility in Lakeside.
The new dock is reinforced concrete encapsulating a solid polystyrene core, which makes the dock float. The dock also boasts numerous safety features including:
nonskid concrete surface
enhanced security fencing and access gate
gangway handrails
The new dock replaces a wooden dock that was 25 years old and had reached the end of its useful life.
"Over the years, we have upgraded our campground facilities, installed new trails and improved our recreation programs to make Lake Jennings a fantastic East County destination," said Helix Water District Boardmember and Parks, Land, Lakes and Garden Committee Vice Chair Joel Scalzitti. "With our recent dock improvements, even more visitors can enjoy everything the lake has to offer."
Lake Jennings is one of two reservoirs owned by Helix Water District. It has a water storage capacity of 9,790 acre-feet and is open to the public for boating, fishing, camping and hiking.
The lake is currently open on Fridays from 3 p.m. to midnight for night fishing, and for fishing and day use on Saturdays and Sundays from 6 a.m. to 3 p.m. The campground – which boasts full-hookup, partial-hookup, non-hookup and tipi sites – is open daily and accepting reservations. Further information, including COVID-19 safety requirements for visitors, is available at www.lakejennings.org.