Reclamation's California-Great Basin Region selects Adam Nickels for Resources Manager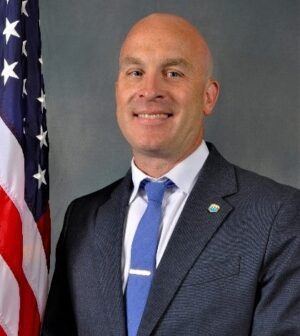 The Bureau of Reclamation's California-Great Basin Region's Division of Resources Management Office has announced Adam Nickels as the new Resources Manager. This division provides inter-disciplinary services for the region and its area offices, including expertise on water rights, water service contracts, Reclamation Reform Act, Native American Affairs, real estate, land resources management, irrigation and drainage, Geographic Information Systems and land classification.
The office also oversees grant services provided through WaterSMART, a Department of the Interior program that engages proactively with Western water users to conserve water and improve water-use decision-making.
"California Great-Basin has always delivered water and power in a dynamic environment, and we continue to see changes in how Reclamation projects are asked to benefit the region and our customers," said Deputy Regional Director Jeff Payne. "Adam possesses a combination of energy, diverse perspectives, good communication skills and optimism that will be valuable in leading our Resources Division as it supports the region in meeting these changing needs."
Nickels began his federal career with the National Park Service in 2001 as a Mount Rainier National Park archeological technician. He joined Reclamation's Montana Area Office in 2003 and transferred to the CGB Region in 2006, where he continued serving as an archeologist though 2014.
In 2015, Nickels became Deputy Program Manager for the San Joaquin River Restoration Program. In this role, Adam led several complex and interdisciplinary projects including the Reach 2B Mendota Pool Bypass and the Friant-Kern Canal Middle Reach Capacity Correction projects. Nickels' success in these endeavors required extensive collaboration across CGB staff, as well as close coordination among settling parties and the five federal and state implementing agencies.
Nickels graduated from Central Washington University with a Bachelor of Science in Anthropology in 1998 and a Master of Science in Resource Management, also from Central Washington University in 2002.