Two Southern California Water Districts Send Personnel to Aid Paradise Irrigation District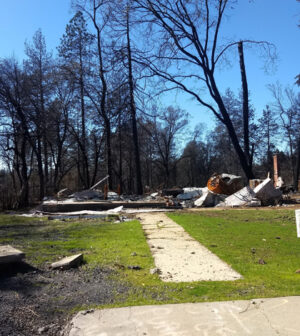 The Camp Fire in the community of Paradise and other locations in Butte County cut a wide swatch of destruction in the rural community. It is regarded as the deadliest and most destructive wildfire in California history. At least 85 perish in the fire storm and it destroyed 18,804 structures. It covered almost 240 sq. miles and total damages have been estimated at $16.5 billion.
The aftermath of the fire continues nearly a year after the November 2018 devastation. At the end of July, the California Department of Resources Recycling and Recovery (CalRecycle) reported the removal of 75 percent of the structural debris from the fire zone in Paradise and Butte County. This includes the removal of 1.6 million tons of ash and debris, over 518,000 tons of concrete, 37,000 tons of metal and over 446,000 tons of contaminated soil.
But a safe water supply remains an issue. Fire officials believe that the water system depressurized during the fire and sucked in a toxic mix of gases from burning homes. The water distribution system was contaminated during the fire with Benzene, a known carcinogen. Fire officials have found this same scenario in Santa Rosa during the Tubbs Fire in 2017.
Help for the community of Paradise has come from many people in a myriad of ways. Most recently the Helix Water District in La Mesa sent four operations employees to Paradise to help restore the community's water distribution system. They were joined by two employees from neighboring Padre Dam Municipal Water District in Santee. Both water districts are located in San Diego County.
The six Southern California water district employees spent a week in Paradise working Monday through Friday to help testing and restoring water quality in customer service lines. Helix Water District (HWD) sent Dan Baker and Bryan Watte from its meters and valves section and John Wilson and Eric Hughes from its construction section to provide that help. HWD had offered mutual aid assistance through the Office of Emergency Services and Paradise Irrigation District General Manager Kevin Phillips responded indicating that they had cleared the gases from their water mains but could use assistance with customer service lines.
"If you closed your eyes, all you heard were friendly people. Everyone in town was very positive," said Helix Utility Crew Supervisor Baker. "But, when you looked around, there were trucks and workers everywhere — rebuilding."
The team from Southern California worked from 6:30 a.m. to 4 p.m. each day, the four from HWD went from one water meter to the next, collecting a water sample at each standing home and installing a highline to deliver safe water to the home until the sample was tested and the customer service line approved for use. They also assisted with the installation of backflow prevention assemblies to prevent contamination from the ongoing construction throughout the community
PID's Phillips had reported to the Paradise community in early August that the district had lifted water advisories on 133 standing homes and was testing and restoring water quality at 30 to 50 standing homes each week. Phillips also shared with residents that PID had installed 275 backflow prevention assemblies to date and had 400 more to install.
Although HWD lost the productivity of four employees while they assisted the Paradise community, HWD Field Supervisor Paul LaFalce said, "We lost four valuable people back here at Helix for a week, but everyone was so supportive of what was happening in Paradise that they covered for them and made up the difference. It was good to see."
The four HWD employees who worked the week in Paradise took with them a "California Strong. Paradise Strong" banner signed by board members and district employees at both Helix and Padre Dam. HWD engineer Jeff McMaster emailed, "Sending a crew to help, the banner, this definitely reinforces the pride in working here."
HWD's Baker summed up the situation well in an email to HWD Operations Director Kevin Miller after their first day in Paradise saying, "There's a lot of work up here but the town is healing. I think I speak for all four of us when I say I'm proud to be a part of this."