Victor Valley Wastewater Reclamation Authority GM Logan Olds Hired by West Valley Water District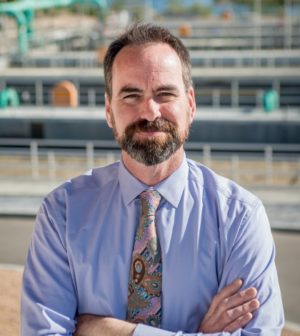 After 13 years with Victor Valley Wastewater Reclamation Authority, General Manager Logan Olds has accepted a new position as an assistant general manager with West Valley Water District (WVWD) in Rialto. Olds will report to WVWD General Manager Clarence Mansell, Jr.
VVWRA Commission Chairman and San Bernardino County Supervisor Robert Lovingood said, "We wish Logan the best and thank him for his years with VVWRA. We will begin our search for new leadership immediately and will work with a professional recruiter to find a good fit, including an interim general manager to assist with the transition."
Olds has indicated that he will serve as a consultant on a part-time basis for VVWRA until the wastewater agency appoints a new general manager. He will also be assisting the new general manager, also on a part time basis, during the transition period.
Olds has enjoyed a successful tenure with VVWRA. In addition to supervising the agency's more than 35 employees Olds oversaw the expansion of VVWRA's main plant in Victorville and built sub-regional facilities in the Hesperia and Apple Valley. During a Mojave Rover flood in 2010 the wastewater authority lost a portion of its 35-year-old interceptor; Olds and his team rebuilt the pipeline by placing it in a tunnel under the river, providing a much safer and sounder alternative. During Olds tenure VVWRA also received many awards for openness and innovation in financial reporting, renewable energy projects and innovative treatment.
"I am excited for my new adventure, but sad to leave VVWRA", Mr. Olds told the Board of Commissioners at VVWRA. "I will miss the Victor Valley, but I am excited to work closer to my new home and develop new projects in my new position. I will also miss those hardworking employees at VVWRA that provide this amazing community with reliable, low cost service 24 hours a day, 365 days each year under very demanding conditions. We have been through many challenges together and I am very proud of each and every one of VVWRA's employees. I am also thankful to the Board of Commissioners at VVWRA for all the support they have provided over the years and through some of the toughest times the organization has faced. It is hard leaving a community where you have worked so hard and developed so many connections over the years, but I am happy to leave VVWRA in a better position than it was when I first started."
Joining Olds as another new management employee at WVWD will be Hesperia City Councilman Jeremiah Brosowske. Brosowske will be serving WVWD as an assistant manager. He previously served with San Bernardino County 4th District Supervisor Curt Hagman.