Western Municipal Water District Honored with Nine Awards by Local Public Relations Society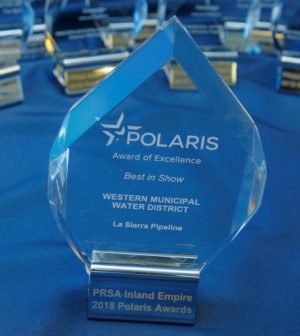 The Public Relations Society of America-Inland Empire Chapter (PRSA-IE) recently held its annual awards event to recognize excellence in public relations communications. Western Municipal Water District (WMWD) received nine awards – including the prestigious Best in Show for its La Sierra Pipeline community relations project – recognizing the water district for its ongoing commitment to transparency and excellence in public sector communications programs and projects.
The Polaris Awards Event recognizes exemplary public relations efforts that successfully incorporate sound research, planning, implementation and evaluation. The awards represent the highest standards of performance in the public relations and communications profession within the Inland Empire. Based on final scoring, an entry may receive either a Capella, Polaris, or the coveted "Best In Show" award.
Riverside-based WMWD received the following awards based on category and type of award:
La Sierra Pipeline Project–Community Relations (Polaris and Best in Show)
The Sterling Pump Station Project–Community Relations (Capella)
Top Workplace Program—Internal Communications (Capella)
Employee Wellness Program—Internal Communications (Capella)
Water Reliability Projects—Video (Polaris)
SoCal Yard Transformation Book Event—Special Event (Capella)
The Splash—Internal Communications (Capella), Video (Polaris)
On Tap—Newsletter (Polaris)
WMWD's construction of the La Sierra Pipeline encompasses a multi-faceted public outreach campaign to educate and update multiple audiences regarding the 18-month construction schedule as well as convey the project's importance to delivering local water supplies to WMWD customers. Receiving PRSA_IE's Best In Show is indicative of WMWD's excellence communications and education regarding the pipeline project with the award submission receiving the highest score in all of the categories.
PRSA-IE is a professional society bringing together public relations professionals in Riverside and San Bernardino counties. The local chapter was formed in 1965 and is part of the Public Relations Society of America, the world's largest professional organization of public relations professionals. The national organization is comprised of 100-plus chapters throughout the country and includes more than 30,000 members. The organization represent public relations professionals in associations, business and industry, counseling firms, government, hospitals, nonprofit organizations, professional service firms and schools.