Women in Water Series: Gloria Gray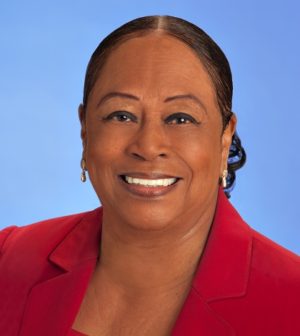 An early commitment to hard work and community service set Gloria Gray's path to leadership. Growing up the daughter of a Houston steelworker who relocated to a working-class suburb of Los Angeles, she learned the value of hard work first hand. Her parents were like many; sacrificing to provide for her siblings and her. They made sure they had character, fortitude, respect for others and integrity — values that Gray says have helped her throughout her life and career.
Her introduction to the water industry came when two directors from her local water board approached her about running for a seat on the board. Gray seized the opportunity to serve her community in a new way. She was elected to the West Basin Municipal Water District Board, and she quickly became passionate about water policy. Fascinated by the complexities of water issues, she learned everything she could. She built on the relationships that she had in the community and started to talk to them about the challenges of delivering safe and reliable water.
Gray was first elected to the West Basin board of directors in 2006 and was re-elected in 2018. She represents the Division II city of Inglewood and unincorporated Los Angeles County areas of Lennox, South Ladera Heights, West Athens and Westmont. Gray was also appointed to the Metropolitan Water District of Southern California (MWD) Board of Directors in 2009 to serve as one of two West Basin representatives. In 2018, she was elected Chair of the MWD Board, where she is currently serving a two-year term. Gray is the second woman and first person of color to serve as Chair of the MWD Board.
Director Gray has received numerous awards for her leadership and in May 2012, Director Gray received the "Outstanding Woman of 2012" Award from the Gardena Chamber of Commerce, as well as the "Women in Action Award" from the Los Angeles African American Women's Public Policy Institute in 2011.
Her mission to serve others has always been the driver of her work, her steadfast determination and her leadership. She is where she is today by trying to do the right thing, being responsive to others and being willing to step up. She works hard and lets her values guide her. She treats people with respect and she's dedicated to maintaining relationships built over a lifetime – with so much more to come.
Gray earned her bachelor's degree in Business Administration from the University of Redlands, a Health Services Management Certificate from UCLA, and Governance Certificates from both the California School Boards Association and the Special Districts Board Management Institute, all while raising her family and working full-time.
CWND's Women in Water looks at some of the most influential women in the industry. If you have a suggestion for someone to feature, please contact us at californiawaternewsdaily@gmail.com