Beale Air Force Base officials report Miller, Upper Blackwelder earthen dams weakening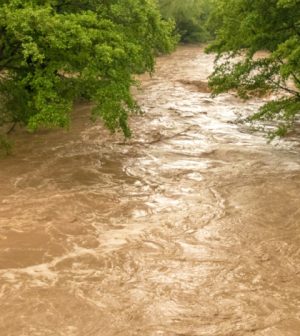 The gaping hole In Oroville's dam spillway is not the only damage to dams throughout the state due to the deluge of rain being experienced throughout most of the state. Beale Air Force Base in Yuba County is reporting, via social media, that nearby Miller and Upper Blackwelder's earthen dams were showing signs of weakness.
Taking to Facebook on Thursday the base reported mid-morning that Upper Blackwelder was "leaking around its overflow culvert."  The message also shared that the 9th Civil Engineering Squadron was working hand-in-hand with the Army Corp of Engineering to reduce and, hopefully, stop the leak.
Although the Beale Facebook post noted that the work was "being successful" they acknowledged that heavy rains could overwhelm the repairs and lead to increased leakage and eventual failure of the dam. At the time of the posting, Beale noted that the leak was fully under control and there was no immediate risk of flooding.
Several hours later, officials at Beale AFB took to Facebook again to report that Miller Dam was also stressed and facing the possibility of failure. Miller Dam, east of one of Beale AFB's gates and its munitions area, was also undergoing work by the 9th Civil Engineering Squadron (CES) to prevent the dam's failure. Initial reports indicated that their efforts were successful and that there was no immediate risk of flooding.  The 9th CES was continuing to monitor the situation.
Beale's social media communications asked its personnel and the nearby area to be wary of flooded roads and practice safe driving techniques including use of headlights and to reduce driving speeds. The base also cautioned that should the situation deteriorate at Miller Dam that their east gate, the munitions area and nearby roads could be impacted.
The recent rains have inundated the local area.  According to the Appeal-Democrat newspaper, should either dam fail the base could be under as much as three feet of water from a "potential rapid inrush of water." Both Miller and Upper Blackwelder dams are 55 years-old.
Miller Dam is about 26 feet high with a 580-acre surface area. Upper Blackwelder Dam is 19 feet high with a 35-acre surface area. When at maximum capacity Miller Dam can store 500 acre-feet; Upper Blackwelder is capable of storing 330 acre-feet.
Currently, a flood warning is in effect until 9:15 a.m. Saturday for Yuba County.  The region was cautioned that even though rainfall will taper off throughout the weekend, runoff will continue and water level will remain high with continued fast stream flows. Standing water in some locations may be very slow to recede due to the saturated soil.
Beale AFB has cautioned their personnel and the local area to "remain vigilant" as the current storm progresses.