Coachella Valley Water District contends with two broken sewer pipes, repairs underway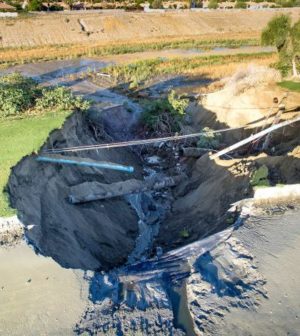 Water overflowing from a pond at a nearby business in the Inland Empire's Palm Desert has caused two sewer pipes and an irrigation pipe to break.  The overflowing water caused an earthen area to erode and created a gaping hole approximately 25-feet deep and 50-feet wide.
Coachella Valley Water District (CVWD) crews were alerted to the overflow and the sewage spill late Saturday night and worked throughout the night to stop the spill. CVWD is working alongside Jones Bros. Construction on a 24-hour a day basis focusing on replacing the pipes and repairing the channel. CVWD estimates the repairs – and lane closures for nearby streets – to take approximately two weeks. Wastewater flows are currently being diverted through other pipes to a nearby wastewater reclamation plant so that service to nearby homes and businesses will not be affected during the emergency repairs.
The spill was contained to a small portion of the channel. The broken sewer pipes are 24 and 33 inches wide. The ruptures released a significant amount of wastewater into the Whitewater River Stormwater Channel Palm Desert. Motorists are being encouraged to stay away from the intersection as traffic delays are expected.
CVWD's sewer service includes some 1,129 miles of pipeline carrying flow to five wastewater reclamation plants capable of treating up to 33.5 million gallons daily. The district provides sewer service to approximately 94,000 homes and businesses. The district also provides domestic and irrigation water, agricultural drainage, reclamation services, regional storm water protection, groundwater management and water conservation to its approximately 109,000 residential and business customers across 1,000 square miles. CVWD is located primarily in Riverside County, but also serves portions of Imperial and San Diego counties.