Department of Water Resources Shuts Down California Aqueduct for Repairs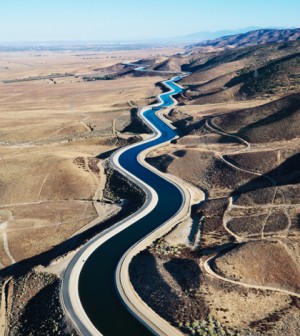 A break in the lining and underlying embankment of the California Aqueduct near Taft in Kern County was first discovered January 2 and has caused the Department of Water Resources(DWR) to halt the flow of water so repairs can be made.
Water will be drained from a "pool" of the Aqueduct to allow for repairs. California Department of Fish and Wildlife does not allow relocation of nonnative fish so the large striped bass and other warm-water game fish in Pool 30 will not be moved for the construction. The government is asking people to not fish near the repair site out of concern for public safety.
Repairs on the leak began January 11 and are expected to be completed by mid-February. DWR says there will be no interruptions in water deliveries to State Water Project water contractors. Southern California contractors will be supplied by DWR reservoirs south of the Tehachapi Mountains while repairs are underway.
DWR estimates that up to 3 cubic feet of water was leaking per second. Water has been diverted to another section of the canal so no water is lost.