DWR Releases Initial Findings from Forensics Team Regarding Lake Oroville Spillways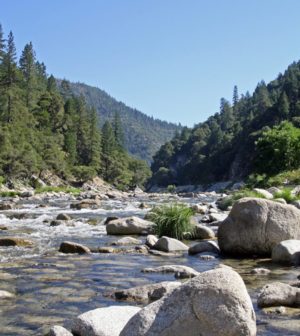 Earlier this week, the California Department of Water Resources (DWR) released preliminary findings of the independent Forensics Team investigating what may have contributed to the Lake Oroville main spillway failure on Feb. 7.
"This memo outlines the potential causes of the main spillway failure, which will be thoroughly investigated by the Forensics Team over the next few months," said DWR Acting Director Bill Croyle. "Although this is preliminary information, we are taking it into consideration as we develop plans to reconstruct the spillway."
In a conference call briefing, the Team presented a preliminary list of physical factors that could have potentially contributed to the initial failure at the main spillway. Some of those factors listed include:
Thinning of the chute slab above herringbone drains; these locations can promote cracking.
Large variations in slab thickness.
Limited slab reinforcement consisting of one layer of light reinforcement in the top of the slab.
Lack of continuous tension reinforcement across slab joints.
Corrosion and failure of reinforcing bars across cracks.
The Team also listed the following factors as having potentially contributing to the emergency spillway damage:
Significant depth of erodible rock and soil in orientations that allowed rapid headcutting toward the crest control structure; these materials also appear to be associated with geologic features such as shear zones.
Hillside topography that concentrated flows and increased erosive forces, facilitating headcut formation.
Insufficient energy dissipation at base of the spillway crest.
Absence of erosion protection downstream of the crest structure.
DWR expects to receive the Team's final report in fall of 2017 which will outline what caused the failure.
To see the full memo visit http://water.ca.gov/oroville-spillway/pdf/2017/Memorandum_050517.pdf