Groundbreaking Ceremony Held for Folsom Dam Raise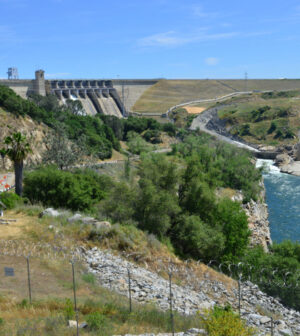 Earlier this week, State and Federal officials held a groundbreaking ceremony to officially launch work on a nearly $400 million project to raise the Folsom Dam 3.5 feet. The project is expected to take five years to complete and will include rock and soil fill and rip-rap on the eight earthen berms that bracket Folsom Lake.
Representative Doris Matsui (CA-05) delivered remarks at the event.
"Today's groundbreaking is the realization of a vision that took shape a long time ago. The spillway will increase our regional flood protection, making all of us safer. We must continue the progression of our region's flood protection," said Rep. Matsui.
The U.S. Army Corps of Engineers is overseeing the project that aims to add flood protection and water storage to the near 1-million-acre-foot reservoir.
The dam-raise work involves packing rock, gravel, dirt and pavement on top of the earthen portions of the dam and dike system increasing the height to 344 feet.  Engineers said the extra dam height will create an additional 43,000 acre feet of storage and offer better protection during a major flood event.