Reclamation Record of Decision Paves Way for Friant-Kern Canal Repairs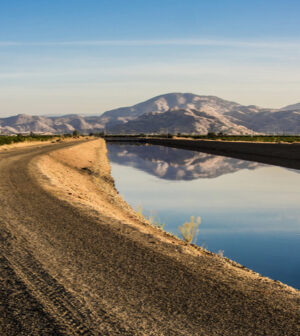 The Bureau of Reclamation has announced that after completion of a nearly $5 million study and pre-construction work on the Friant Kern Canal Project, the Bureau of Reclamation signed the Record of Decision giving environmental clearance to repair a 33-mile stretch of the canal in California's eastern San Joaquin Valley.
The Project would restore capacity in the canal from the current estimated 1,600 cubic-feet-per-second to the original 4,000 cubic-feet-per-second in the most critical section near the Deer Creek check structure (milepost 103).
The section to undergo repairs has lost more than half of its original capacity to convey water due to subsidence. The repairs, when complete, will restore full water delivery to over one million acres of farmland and 250,000 residents.
"Since day one, the Trump Administration directed Reclamation to modernize infrastructure to ensure water reliability for California's farms and communities," said Bureau of Reclamation Commissioner Brenda Burman. "I am delighted Reclamation reached another of the Administration's critical milestones for the San Joaquin Valley and look forward to seeing shovels in the ground in the near future."
Signed into law in 2016, the bipartisan Water Infrastructure Improvements for the Nation (WIIN) Act, championed by Leader Kevin McCarthy, Senator Feinstein, and Congressman Nunes created a process by which water infrastructure projects, like the Friant-Kern Canal Project, can be authorized by Congress and provided federal funds of up to 50% of total project costs.
"I want to thank Secretary Bernhardt and Commissioner Burman for continuing to prioritize critical repairs to the Friant-Kern Canal," said Leader Kevin McCarthy (CA-23). "With this action today, all of the environmental documentation is complete, and this project can now move into the pre-construction and construction phases. I also want to commend President Trump for never wavering from his commitment to get water flowing to Central Valley families, communities, and farmers. From repairing the Friant-Kern Canal to issuing new updated, science-based regulations to bring our communities more water from the Sacramento-San Joaquin River Delta, the President and his teams at the Interior Department and Bureau of Reclamation have navigated complicated California water policy to secure multiple achievements in order to help Californians get the water they contract and pay for. I look forward to working with the Trump Administration, the Friant Water Authority, and other stakeholders to continue to advance this important canal repair project."
The Project's final Record of Decision is available at https://www.usbr.gov/mp/nepa/nepa_project_details.php?Project_ID=41341.