San Diego County Water Authority approved to begin four-mile section of Pipeline Relining Program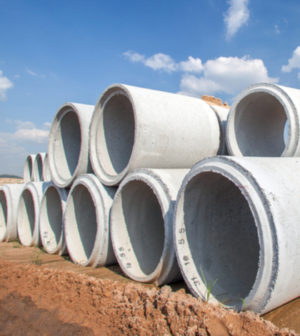 An additional four miles of large-diameter pipeline has been approved by the San Diego County (SDC) Water Authority Board of Directors for rehabilitation as part of the agency's Pipeline Relining Program. The $28.6 million, 82-mile total project is the Water Authority's multi-decade program to rehabilitate pre-stressed concrete cylinder pipeline (PCCP) within the Water Authority's conveyance system with steel liners to extend their service life and ensure continued system reliability.
Pre-stressed concrete cylinder pipes were commonly installed beginning in the early 1960s through the late 1980s in many large diameter water distribution systems worldwide. Using a combination of concrete and steel, this technology initially appeared to have unparalleled inner pipe strength and be highly resistant to corrosion. However, PCCP has not been as reliable as predicted and the SDC Water Authority proactively began relining sections of PCCP to reinforce them and extend their service life.
"Pipeline relining is an important and often overlooked program that's extending the life and reliability of the system we depend on every day to deliver water to our taps when we need it," said Mark Muir, chair of the Water Authority Board. "Our innovative approach to relining also keeps costs down and reduces local impacts from construction."
Pipeline relining is one component of the Water Authority's overall Asset Management Program. The Asset Management Program is responsible for assessing the status of the Water Authority's conveyance system. Through the use of technologies such as Remote Field Eddy Current, Acoustic Fiber Optic real-time monitoring and Magnetic Flux Leakage the program can determine the health of PCCP and other types of pipelines.
More recently the Asset Management Program has utilized Remote Field Technology for its assessments in order to avoid pipeline failures by pro-actively identifying potential issues and risks before they occur. The most recently approved pipeline assessment, because of its location from Lake Murray to the Sweetwater Reservoir, will allow work crews to use Remote Field Technology for isolated sections of pipeline. They will be assessing the condition of the very first relining projects completed in the 1980s.
The process of installing the steel liners entails the Water Authority excavating the pipeline only at selected access points called portals instead of excavating the entire length of pipeline. Crews then use special machines to move 40-foot sections of steel liner underground to specific sites where they are needed. This rehabilitation method is 40 to 60 percent less costly than traditional excavation, and results in far fewer surface impacts to adjacent communities. For the Lake Murray to the Sweetwater Reservoir no streets will be closed but usable lanes in the construction area may be reduced.
The Water Authority is also coordinating with local water agencies, including the City of San Diego, Helix Municipal Water District and the Sweetwater Authority, to ensure construction activities do not interrupt water service to customers. Projector contractor L.H. Woods & Sons Inc. anticipates beginning the project in September and concluding it next summer.
The relining project will reinforce nearly 23,000 linear feet (4.3 miles) of the Water Authority's Pipeline 3, including sections of 66-inch and 69-inch diameter pre-stressed concrete cylinder pipe. Crews will conduct most of the work underground inside the pipe, and will access the pipe through 17 portals. When completed, the Water Authority will have rehabilitated approximately 45 miles of PCCP relining all 82 miles of this type of pipeline in the Water Authority's system exceeding the halfway point of the project.