Sewer system search locates 13-year-old boy after harrowing experience alive and able to talk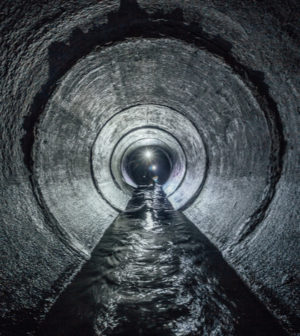 Thirteen-year-old Jesse Hernandez was found early Monday morning following an approximately 13-hour ordeal after he fell some 25-feet into a sewer line. The youngster and his extended family were celebrating Easter with an annual event at Griffith Park near the train museum.
The young teen fell into the sewer system at about 4:30 p.m. Sunday. He and some friends had supposedly scaled a chain-link fence to gain access to the area surrounding an abandoned maintenance shack. After jumping on some of the aged wooden planks one of them broke and Hernandez plummeted into a 4-foot-wide pipe filled in a hazardous environment.
The incident was reported to the Los Angeles Fire Department (LAFD) at approximately 4:30 p.m. According to the LAFD a team consisting of the city's firefighters, the Los Angeles Police Department, the California Highway Patrol, the City Recreation and Parks department, Park Rangers and experts from the Bureaus of Sanitation, Engineering and Contract Administration worked through the night to analyze the pipe system — covering approximately 6,400 feet — and search all likely catch areas. Third party vendor cameras, regularly used to inspect pipes for repair, were used in addition to the early use of cameras by LAFD Urban Search and Rescue.
High-tech vendor cameras were able to both float at the top of the pipe and crawl along the bottom. They also included lighting. The pipe into which the teen fell branches runs parallel to the 134 Freeway veering south near the 5 Freeway and then branches into a number of smaller pipes on the east side of the Los Angeles River. This extensive system required a systematic approach, facilitated by the expertise of the Bureau of Sanitation, to ensure each pipe was searched. The pipes date back to 1965.
The abandoned maintenance shack where the teen fell into the sewer had been decommissioned sometime in the 1980s. Why the building had not been torn down will part of an examination of Sunday-Monday near tragedy according to Adel Hagekhalil, assistant director of the Bureau of Sanitation.
Approximately 2,400 feet of pipe had been thoroughly inspected and the search was continuing when a maintenance hatch west of the 134 Freeway was opened to insert cameras. There, 11-feet underground, young Hernandez was found alert and talking at approximately 5:40 a.m. Monday. A cell phone was provided so he could immediately call his family to let them know he was safe.
A hose, attached to a truck, was fed down to the boy and he was hoisted to ground level. LAFD/ paramedics provided immediate medical care and the young teen was decontaminated and then transported to a local hospital for a complete medical evaluation. He was released from the hospital shortly after 11 a.m. on Monday.