Western working to secure local, reliable water supply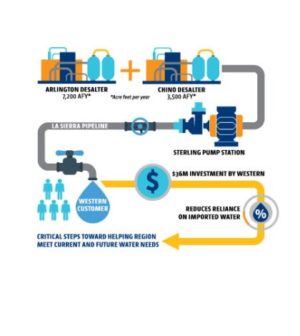 Western Municipal Water District
District investing millions in infrastructure projects to make it happen
Western provides nearly 29 billion gallons of water each year to customers in western Riverside County. Many may not realize that most of that water is imported from Northern California and the Colorado River. Because it must travel so far, imported water costs more and may be less reliable than locally sourced water from time to time.
That's why Western is working diligently to secure more local water to meet the current and future needs of our community. Local water will help the District become more self-sufficient, keep rates stable and ensure there is a reliable water source during droughts or other supply emergencies.
Western's investment of millions of dollars in infrastructure projects over the next several years will jumpstart this important plan. Though each project may seem to stand alone, they form a collective effort to create an enhanced network of water sources.
The La Sierra Pipeline (LSP) project, which broke ground in June 2017, is one of Western's largest infrastructure projects. The five-mile underground pipeline being built along La Sierra Avenue will transport water from the two area desalters, to the Sterling Reservoir and then to customers' taps upon completion in fall 2019.
Construction on the Sterling Pump Station, located in the Riverside Business Park on Sterling Avenue in Riverside, began this spring and will have the technology needed to propel locally sourced water uphill to several points along the new pipeline.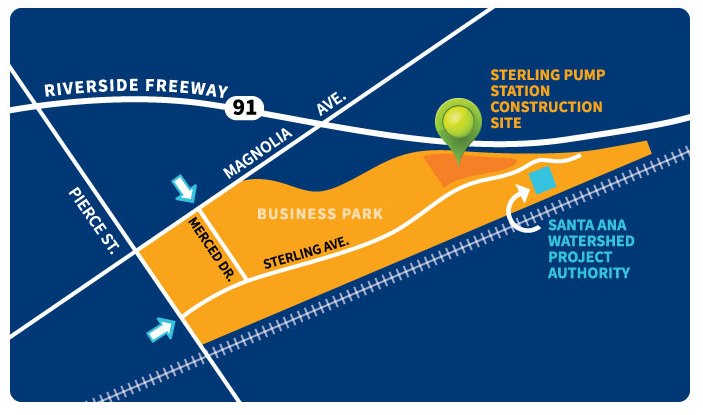 The third project to start this spring was the Victoria Recharge Basin, which is in Riverside at the intersection of Victoria Avenue and Jackson Street. The basin will capture storm water runoff that would otherwise be lost and redirect it to the recharge basin where it percolates through the ground naturally to replenish groundwater supplies. This groundwater will be used to sustain long-term production at the Arlington Desalter.
The Chino and Arlington Desalters are Western's work horses when it comes to securing the local water supply. They extract local groundwater and use reverse osmosis to purify it into clean drinking water. The Chino Desalter was recently expanded and capacity at the Arlington Desalter will also be expanded once the Victoria Recharge Basin is completed.
Collectively, these innovative projects are a critical step toward reducing the region's reliance on imported water.