Fresno County's Tombstone Territory Home to Signing of Safe and Affordable Drinking Water Bill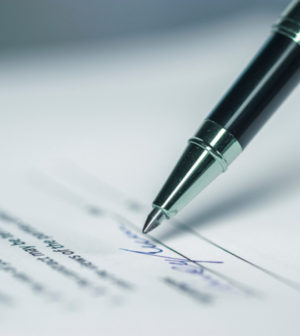 Tombstone Territory, a small community one mile outside of Sanger in Fresno County was the site of Wednesday's signing of the Safe and Affordable Drinking Water Bill by California Governor Gavin Newsom. Some of the residents of the community of less than 40 homes joined the governor and other elected officials to witness the signing of Senate Bill 200, authored by Senator Bill Monning (D-17th District-Carmel) to help local water systems provide safe drinking water. Civil rights advocate Dolores Huerta, Assemblymember Richard Bloom (D-50th District-Santa Monica), Sen. Anna Caballero (D-12th District-Salinas) and Sen. Monning were on-hand for the signing event.
"The fact that more than a million Californians can't rely on clean water to drink or bathe in is a moral disgrace," said Gov. Newsom. "Parents shouldn't have to worry about their kids drinking from the water fountain at school, and families shouldn't have to dump water over their heads to shower every day. This funding is critically important to addressing California's long-standing safe drinking water issues, and I would like to thank the Legislature for working collaboratively to pass this solution."
Many residents — especially in impoverished communities – and those who previously relied on private wells that went dry in California's most recent multi-year drought and/or whose wells were laden with contaminants that rendered them unsafe and unusable, praised the legislation. But the funding of the legislation has its naysayers.
Gov. Newsom originally proposed raising funds for clean water by implementing a water tax. Within his first week in office in January he proposed creating a permanent funding source for safe and clean drinking water projects. By legislators opposed to a water tax when the state is sitting on a more than $20 billion reserve challenged the governor's clean water tax plan. Gov. Newsom instead turned to using funds in the state's greenhouse gas reduction program raising the ire of others especially the companies charged for polluting the environment, the program known of as Cap and Trade.
Many impoverished families in communities like Sanger and Tombstone Territory receive five 8-gallon jugs of water via bottled water trucks every two weeks through a grant program, which they use for drinking and cooking. When they run out, they risk using the water from their sink. The Newsom administration is justifying the use of the state's greenhouse gas reduction program funds by asserting that eliminating the trucked-in delivery of bottled water will reduce carbon emissions.
According to a recent Sacramento Bee article Newsom representative Vivek Viswanathan told a group of lawmakers during a meeting about the state budget in June that, "We believe these investments not only help those communities by giving them safe drinking water but also fulfill the goals of the Cap and Trade program."
Regardless of the squabbles over the use of Cap and Trade funds to fund SB 200, the state budget now includes the allocation of $130 million to begin implementation of a Safe and Affordable Drinking Water Program. The legislation also requires the State Water Resources Control Board to develop a fund expenditure plan to identify failing water systems, as well as solutions to provide safe and affordable drinking water.