Stanislaus County installs two new infiltration system to address standing water, increase recharge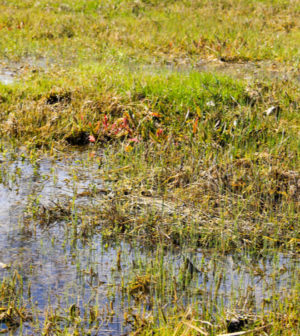 Standing or pooled water and run off water don't stand a chance anymore in two locations in Stanislaus County. Conversely, the rate of groundwater recharge in Oakdale will be increased. Decreasing the one and increasing the other are thanks to a new state-of-the-art infiltration technology from The Water Group, LLC.
Stanislaus County has chosen the Parjana® Distribution's Energy-Passive Groundwater Recharge Product (EGRP®) to tackle standing water and increase the rate of groundwater at two Oakdale sites. Parjana®, in conjunction with The Water Group, LLC, have completed their first deployments of the system in California earlier this month. Those successful deployments have included airports, city parks, college campuses, golf course and other sites in the U.S. and in Europe.
As California contends with fewer but more intense rain events, Stanislaus County was contending with more water issues that had the potential to impact public safety. Parjana's ® EGRP® system and technology will capture more sustainable stormwater thereby accelerating groundwater recharge and reducing standing water on city streets.
"We're enthusiastic to be a leader in California to deploy innovative technology to substantially increase infiltration for groundwater recharge in areas throughout the county that have had problematic standing water for days following storm events, and then sustainably utilize this additional groundwater during periods of drought," said David Leamon, deputy public works director for Stanislaus County.
Parjana's ® EGRP® system is capable of pulling standing water from the surface via natural infiltration of native soils, pressure differential, hydrostatic pressure and gravity. Dozens of five to 40-foot-long devices with unique c-shaped chambers, approximately as big as a quarter and open to the outside, are installed two feet or more beneath natural topsoil. They are spaced a few feet apart and allow the EGRP® system to create new, preferred channels for the runoff water to flow. The captured water proceeds through the natural recharge process, absorbing and filtering contaminants and pollutants before being returned to replenish groundwater aquifers.
The EGRP® system increases the volume of storm water that can be stored, infiltrated, recharged and ultimately used as needed – especially during periods of drought – by accelerating the infiltration of previously wasted water. The excess surface water that previously pooled or run off will now be captured and filtered providing improved water quality, reduced flooding and accelerated groundwater recharge.
"California's weather and soils are ideal locations to deploy the EGRP® system, said Joe Kramer, director of Market Development at Parjana® Distribution. "The Stanislaus County system is designed to infiltrate one inch of rainfall in 24 hours, which is nearly 100 percent greater than conditions prior to the installation of the EGRP® system."