Experts Say Oroville Dam Safe to Operate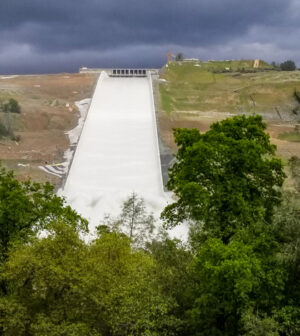 The Department of Water Resources (DWR) published a summary report on the Oroville Dam Safety Comprehensive Needs Assessment (CNA) yesterday and it has been determined that the Oroville Dam Complex is safe to operate and no urgent repairs are needed.
The CNA study, initiated in January 2018, set out to identify potential dam safety and operational needs following the reconstruction of the spillways which were damaged in February 2017.
DWR said, that even though the Dam has been given the green light to operate, conditions can change over time and they will conduct ongoing monitoring and assessment to maintain the safety and reliability of the complex.
"Public safety is at the core of DWR's mission, and we are committed to continually evaluating the performance and safety of State Water Project facilities, including Oroville Dam," said DWR Director Karla Nemeth. "The Comprehensive Needs Assessment report is an important step in our efforts to ensure the ongoing safety and reliability of facilities that provide water and flood control for millions of Californians."
The CNA identified several risk-reduction projects that DWR already is moving to implement, including installation of new water pressure measurement devices to improve seepage monitoring and completion of a state-of-the-art seismic stability analysis. DWR also is planning to implement recommendations to raise Parish Camp Saddle Dam by three feet, line Palermo Canal to reduce leakage and improve rock slope stability, and install new remote starter and power connections to the spillway radial gates to improve reliability.
The team tasked with conducting the CNA included engineers, hydrologists and other experts knowledgeable about Oroville Dam, as well as experts in risk analysis. An Independent Review Board (IRB) of dam safety experts provided oversight, and a community-led group of elected officials and stakeholder organizations and private citizens (known as the Ad Hoc group) provided input.
The summary report is available online on the Oroville Dam Safety Comprehensive Needs Assessment website.
More information is available at https://resources.ca.gov/Initiatives/Oroville-Dam-Citizens-Advisory-Commission.