The Department of Water Resources (DWR) announced yesterday that they would be increasing deliveries from the State Water Project to 30 percent of requested water supplies – or 1.27 million acre-feet — in 2023, up from the initial 5 percent announced last December.
The allocation increase is the direct result of extreme weather in late December and nine atmospheric rivers in early January that helped fill reservoirs and dramatically increase the Sierra Nevada snowpack. The SWP's two largest reservoirs (Oroville and San Luis) have gained a combined 1.62 million acre-feet of water in storage — roughly enough to provide water to 5.6 million households for a year.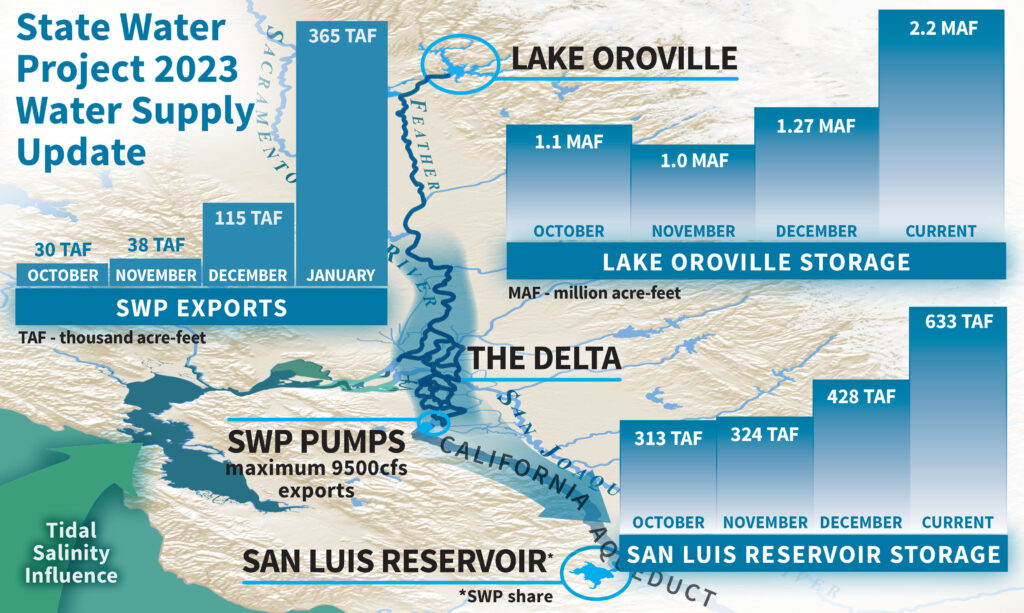 "We are pleased that we can increase the allocation now and provide more water to local water agencies," said DWR Director Karla Nemeth. "These storms made clear the importance of our efforts to modernize our existing water infrastructure for an era of intensified drought and flood. Given these dramatic swings, these storm flows are badly needed to refill groundwater basins and support recycled water plants."
The updated SWP delivery forecast takes into account current reservoir storage and is based on a conservative runoff forecast.  It does not take into account the current Sierra Nevada snowpack. DWR will conduct snow surveys on February 1, March 1, April 1, and May 1 and may further update the allocation as the water supply outlook becomes clearer with the new data.
In addition to on the ground surveys, DWR will gather data from its Airborne Snow Observatory (ASO) surveys. For the second year in a row, DWR is broadening the deployment of these more sophisticated technologies, such as ASO surveys, that can collect snow measurements farther upslope of the Sierra Nevada. The data from these flights, which use LiDAR and spectrometer technology to measure snowpack across broad swaths of key watersheds, will be used by DWR to get a more accurate account of California's snowpack and to update water supply runoff forecasts.
The SWP pumps currently are operating at maximum capacity of 9,500 cubic feet per second (cfs) and will continue to be adjusted as needed to meet State and federal requirements.
The State did acknowledge that had the proposed Delta Conveyance Project been in place, the SWP could have stored an additional 202,000 acre-feet of water between January 1 and January 23 while staying within compliance of environmental rules.
"Thanks to the water captured and stored from recent storms, the state is increasing deliveries to local agencies that support two-thirds of Californians – good news for communities and farms in the Bay Area, San Joaquin Valley and Southern California," said Governor Newsom. "We'll keep pushing to modernize our water infrastructure to take advantage of these winter storms and prepare communities for the climate-driven extremes of wet and dry ahead."