CDFA and Shasta County Agricultural Commissioners Office Eradicate Hydrilla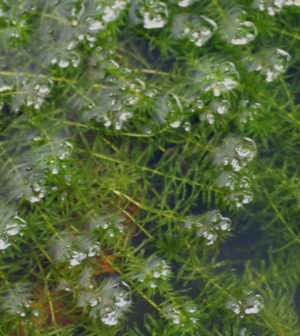 A quarantine that began on July 18, 1996 to purge the invasive aquatic weed, hydrilla, ended successfully this week after the California Department of Food and Agriculture (CDFA) and the Shasta County Agricultural Commissioner's office eradicated two hydrilla infestations within the cites of Redding and Anderson. Hydrilla (Hydrilla verticillata) is a non-native, aggressive, submerged aquatic invasive species. This scourge was last detected in Shasta County in 2006.
Hydrilla is defined as a non-native, aggressive, submerged water weed. It has excellent survival and dispersal strategies and once the weed invades an aquatic ecosystem, it drives out all native and introduced aquatic plants, creating a pure stand. The species produces special survival structures on the stems (called "turions") and in the sediment (called "tubers") and yet they most often do not produce any seeds. Turions will break off the stems very easily in the fall and small pieces of the stem – no more than an inch long — will drift before sinking to start a new plant. Each tuber can also produce a new plant; a single tuber can lead to the production of several hundred others in the course of one growing season. Tubers can survive for four to seven years in sediment before sprouting, even if no water is present for much of that time.
"We spend a lot of time and effort responding to invasive pests like fruit flies, and we are often able to eradicate those infestations in a matter of months," said CDFA Secretary Karen Ross. "But it's important to recognize that some invasive organisms, such as hydrilla, require remarkable dedication and persistence to eradicate. It's also important to note that, while farmers and ranchers may benefit from this work because hydrilla can hinder our irrigations systems, it's really the environment that is the main beneficiary of this achievement. Protecting our waterways means protecting water quality, preserving habitat for wild and native species, and even safeguarding recreational opportunities like boating and swimming."
The Hydrilla Eradication Program has a proven track record in California, eradicating the plant from 15 counties since 1976. In the case of the Shasta County infestations, the CDFA and Shasta County used integrated pest management methods to combat the problem. The affected water systems had been surveyed bi-annually through 2017, with zero hydrilla finds. Additional steps were taken to prevent the plant from reaching the nearby, adjacent Sacramento River, where the it could have spread throughout Northern California and ultimately to the Sacramento-San Joaquin Delta. The last pest management treatment was undertaken in 2011.
Hydrilla has the potential to infect 90 percent of California's water bodies if not eradicated. The species has the ability to reduce water flow up to 85 percent in canals and ditches and can clog dams, power plants and other water control structures.