Department of Water Resources Enlists New Wildfire Prevention Staff – Goats and Sheep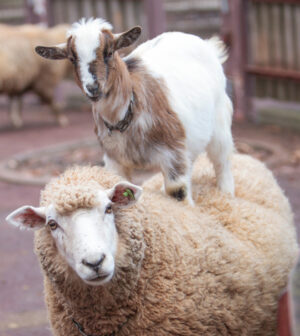 Unlike some of the Department of Water Resources' (DWR) staff the newest recruits never complain about their hours or supervisors, never request vacation time and never question their working conditions or ask for a computer upgrade. However, they do require an immense amount of food (and continually!) and they might get into a tussle or two with their co-workers. But, by and large, DWR's goats are pretty ideal employees for their job description.
The DWR recently shared online that the have begun utilizing goats and sheep to maintain the steep hillsides around Lake Oroville's Lime Saddle recreational facilities in Butte County which are covered with dry grass and underbrush. The grazing animals have been commissioned to help maintain DWR and Butte County Fire Safe Council's (BCFSC) fuel reduction project completed during the winter of 2016-17.
The DWR Fuel Load Management Program, approved in 2012, continues to provide valuable benefits. DWR, along with partners CAL FIRE, the California Conservation Corps, BCFSC, Butte County Sheriff's Office, and Department of Parks and Recreation are all working together to accomplish the same common goal — reduce wildfire risk, increase public safety, and enhance forest health in areas around Lake Oroville. As California's now year-round fire season burns longer and hotter it behooves both fire, water and safety agencies to seek new ways – or even renewing old methods – of diminishing the tender dry brush that seems to be deeper and taller each year.
The destruction of Paradise community and its continuing problems in restoring safe drinking water to the town is testimony to the lingering problems which can plague a community long after a wildfire has been extinguished. Paradise Irrigation District (PID) customers have been under a water advisory since December 2018 following the Camp Fire and they continue to work to understand this first-of-its-kind water system depressurization and contamination. Even in communities where a fire is not nearly as destructive as the 2018 Camp Fire, any interruption to the provision of water during or after a fire is both traumatic and frustrating for a community.
Grazing is gaining popularity across California as a sustainable method to minimize risk and lessen the spread of a wildfire through vegetation management. Nine acres in the Camp Fire footprint near Lime Saddle's Parrish Cove will be covered by over 500 goats and sheep in an effort to reduce wildfire risk. The animals at Parrish Cove will graze on grasses, leaves, poison oak, and a variety of shrubs and trees. By standing on their hind legs, they can reduce ladder fuels up to six feet high. Better yet, they love to eat weeds, especially invasive ones.
DWR has indicated that the grazing area will be cordoned off with an electric fence for approximately one week and warning signs will be posted for public safety. Shepherds will also be present to protect the animals while they work. The public is urged to stay clear of the electric fence and keep pets away so the goats and sheep are not disturbed.
DWR's Oroville Field Division is planning to use grazing as a maintenance method on other recently completed fuel reduction projects. Other new projects will be starting this month and will continuing through Spring 2020.