Harmful Algal Blooms Identified in Prado Regional Park Lake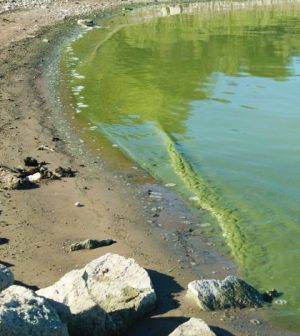 Visitors are being urged by the Santa Ana Regional Water Quality Control Board (SRWQCB) to avoid water contact at Prado Regional Park Lake due to the identification of harmful Algal blooms.
It is highly recommended that the public and their dogs stay out of the water and avoid contact with floating algal material and scum in the water or along the shore. Additionally, fish caught at the lake should not be consumed until the advisory is lifted.
The recommendation by SRWQCB is based on the potential health risks posed by the algal organisms, called cyanobacteria, and the high level of toxins measured in water samples collected last month. The algal bloom appears as bright to dull-green material near or floating on the water surface and can look like something similar to spilled paint.
As the bloom continues to grow, cyanobacteria colonies may form thick algal mats or scum on the water surface and accumulate on the shore. Bloom conditions can change rapidly, as the flow of surface water and wind may mix, move, or concentrate the bloom into different areas.
The bloom is being monitored by the SRWQCB.