Montecito Water District issues "Boil Water" notice, provides emergency water distribution sites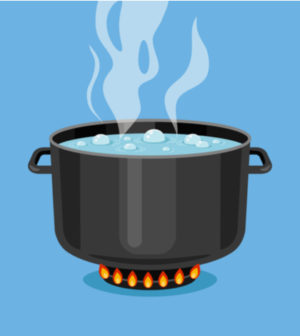 Montecito Water District (MWD), located in Santa Barbara County, has issued an urgent notice for its customers to boil all water or bottled water for drinking and cooking purposes due to recent flash flood events. On the heels of the devastating California wildfires in the past several weeks have come January's severe rainstorms triggering destructive – and in more than 15 cases, even fatal – mudslides wiping out more than 100 homes.
MWD are now advising residents of Montecito and Summerland, both of which are unincorporated communities in the county, to use one of the following methods to disinfect the water before use:
Bring all water to a boil, let it boil for one (1) minute and let it cool before using
An alternative method of disinfection is to use fresh, unscented, liquid household bleach. To do so, add 8 drops (or 1/8 teaspoon) of bleach per gallon of clear water or 16 drops (or 1/4 teaspoon) per gallon of cloudy water, mix thoroughly and allow it to stand for 30 minutes before using. A chlorine-like taste and odor will result from this disinfection procedure and is an indication that adequate disinfection has taken place.
Water disinfection tablets may also be used by following the manufacturer's instructions.
The water district notes that failure to heed their advisory to boil/disinfection local water could result in stomach or intestinal illness.
"This means not using the water to wash the dishes, brush your teeth, wash and prepare food, wash your hands," said Susan Klein-Rothschild, deputy director for the health department. "We're concerned about harmful bacteria and parasites."
Additionally, MWD has established two sites for potable water distribution:
Shopping center at South West corner of East Valley Road and San Ysidro Road (Upper Village).
Montecito Fire Station at Cold Spring and Sycamore Canyon Rd.
Additional potable water distribution sites may become available and, if so, the information will be made available online at: http://www.montecitowater.com. The water distribution is only for MWD customers in need of water.
MWD has identified extensive infrastructure damage to its water supply. Water outages are to be expected throughout the district; an estimated timeline for repairs will also be made available to the public as that information becomes available.
MWD is working with both state and county agencies to make this information available throughout the district. For additional information you can contact these agencies as follows:
State Water Resources Control Board – Drinking Water Field Operations Branch – District Office at (805) 566-1326.
Santa Barbara County Health Department – EMS Duty Officer at (805) 681-5542.