Santa Barbara County Issues Recommended Evacuation Warning prior to approaching winter storm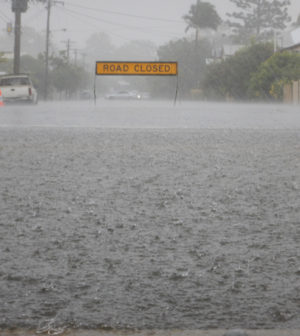 Santa Barbara County (SBC) officials are working to help prepare residents and businesses for the next approaching winter storm by elevating a prior Pre-Evacuation Advisory to a Recommended Evacuation Warning for the Thomas, Sherpa and Whittier burn areas (in the communities of Carpinteria, Goleta, Montecito, Santa Barbara and Summerland). The approaching storm was slated to arrive on Thursday afternoon and last through Saturday could trigger more mudslides and debris flows in the area first devastated by fires last fall and severe rain-related damage in mid-January.
According to the latest incident report from the Incident Command Center – a partnership of the Incident Management Team 3, the Montecito Fire Department, the County of Santa Barbara (CSB) and the CSB Fire Department, the city of Santa Barbara, the SBC Sheriff and SBC Water Resources — the January storm brought destruction to some 30 square miles of Santa Barbara County destroying more than 125 homes, damaging more than 300 and threatened 3,000 others. Six commercial properties were destroyed, 17 were damaged and 200 were threatened. The storm also resulted in 28 injuries, 21 fatalities and two people who had been reported missing and have not been found.
Additionally, residents and business owners in the impacted area have had to deal with being displaced, school and business closures, boil water/high chlorine levels and bottled water distribution centers, displaced animals in shelters made possible at the Earl Warren Showgrounds and the Santa Barbara Humane Society, beach closures and streets clogged and impassable due to mud and debris flows that made streets into muddy rivers. The major road closed was the area's major artery – Highway 101 which remained closed for more than two weeks as Cal Trans and other entities worked round the clock to clear debris and scrape mud from the north-south highway.
January's mayhem has prompted Santa Barbara County officials to approach this week's storm with caution. The National Weather Service (NWS) has informed SBC that moderate to heavy rainfall rates early Friday may be enough to generate isolated mud and debris flows near burn areas. The potential exists for rainfall in the range of 1/3 to 2/3 of an inch per hour at times.
The communities near and below the Thomas, Sherpa and Whittier burn areas are strongly recommended to relocate to safer locations for their own safety. There is a high risk for loss of life and property.
According to the Santa Barbara Sheriff's Office, "If at any time people feel threatened, take immediate action. Do not wait for a notification. Those with access and functional needs and those with large animals should leave."
Although Santa Barbara County schools remained open on Wednesday, school closures were a possibility for Thursday and/or Friday. Schools were indicting that they would update parents, guardians and others through their established communication channels if school closures were to occur.
Multiple resources were being mobilized to prepare for the approaching winter storm. Should people lose their electrical power, and subsequently access to the internet, during the storm County Office of Emergency Management will utilize satellite equipment to regularly communicate with designated County radio stations that have generators and can continue to broadcast. Visit this link — http://awareandprepare.org/media prior to the approaching storm and print out the information for a list of stations to check if you lose power. A hand-cranked radio or battery-operated radio with fresh batteries can be invaluable if mudslides and debris flows return to Santa Barbara County.
Other resources for storm-related news will be available as follows:
In English:
Emergency Alert System:
It is critical that people in Santa Barbara County register to receive emergency alerts. Sign up at www.AwareAndPrepare.org. If People aren't registered you will not receive these valuable alerts.
Stay Connected:
For ongoing updates, go to www.CountyofSB.org, follow @countyofsb on Twitter and Facebook, or call 2-1-1 from 805 area code or 800-400-1572 outside of 805, or text your zip code to 898-211.
En español:
Sistema de Alerta de Emergencia:
Es muy importante que las personas en el Condado de Santa Bárbara se registren para recibir alertas de
emergencias. Inscríbete a www.AwareAndPrepare.org, si no podemos localizarte, no podemos alertarte.
Permanece Conectado:
Para actualizaciones continuas, ve a www.CountyofSB.org, sigue @countyofsb en Twitter y Facebook o llama al 2-1-1 desde el código de área 805, o al 800-400-1572 para fuera del 805, o manda por texto tu código postal al 898-211.