Veteran community advocate, Juanita Salas, running for Division I, Imperial Irrigation District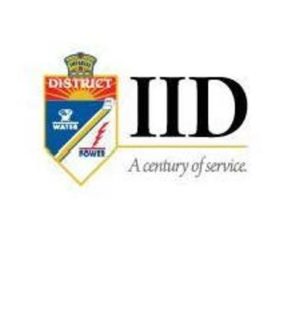 Juanita Salas — community advocate, supporter of causes to benefit the region and a leader in the best use of tax dollars – has announced her candidacy of Division 1 of the Imperial Irrigation District (IID). As a third-generation Imperial County resident Salas has immersed herself in the issues of the region and is a true community supporter.
Salas served for more than a decade as the Senior Community Representative for the 51st Congressional District where she worked intently in protecting the region's water and power rights. She has experience in local, state, and federal policy-making as well as community organizing and outreach. Currently Salas is serving in her fifth year on the Imperial Valley College (IVC) Board of Trustees.
"Juanita is the only choice for our community," said Luis Olmedo, executive director of Imperial Valley's Comite Civico del Valle (CCV). "Juanita is the complete package as a candidate, she understands the issues around our environment, water, and energy and will find solutions to the Salton Sea, work to create jobs and making sure that consumers and job creators come first when it comes to policies around defending our water rights and electricity rates." CCV is an Imperial Valley non-profit organization that forms partnerships to improve access to health services, research, community service programs, and environmental justice to disadvantaged communities by way of education, capacity building, and civic participation.
As an IVC trustee Salas has helped to build a 3-megawatt solar field which will save the college $8 million over the next 25 years. While with the 51st Congressional District, Salas served on both the New River Committee and the Salton Sea Restoration Project Taskforce.
"Juanita is active, she shows up, is present for the important matters for our community, she has the energy needed for this working board and she is committed to doing it full time, which is what the IID Board needs," said Margaret Sauza, executive director of SURE Helpline Crisis Center.  "She is full of energy and anyone who knows Juanita, knows she is a hard worker and keeps a defined work plan to accomplish what she sets her mind to improve our community."
Raised by farm worker parents in El Centro, Salas attended Central Union High School and Imperial Valley College. She earned a bachelor's degree in Liberal Studies with an emphasis in Political Science at San Diego State University (SDSU), where she was elected to serve as President and CEO of SDSU Associated Students Inc. representing over 33,000 students.
As the community's candidate Salas is committed to working with all the stakeholders to ensure that water and power are clean, affordable and managed properly. She has vast experience in both leading and serving as a committee member for non-profit organizations that seek change for the community's benefit and for the empowerment of the underserved. She is considered to be transparent, accountable and fiscally responsible for ensuring the best use of tax dollars.
"I have known Juanita for many years and know that her number one priority is to deliver positive results for our community.  She has a track record of doing the homework at the Imperial Valley College Board and I know she will do the same for the Imperial Irrigation District Board," said Catherine Drew, union president, Central Union High School District.