ACWA Prepares for the Future, Names Dave Eggerton as New Executive Director Designate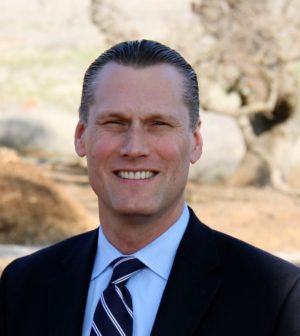 Association of California Water Agencies
Dave Eggerton, the current general manager of the Calaveras County Water District (CCWD), has been named by the Board of Directors of the Association of California Water Agencies (ACWA) as the association's new Executive Director Designate. Eggerton is slated to succeed current ACWA Executive Director Timothy Quinn who will be officially retiring on Dec. 31.
Eggerton will begin as ACWA's Executive Director Designate on Nov. 1 and work alongside Quinn until Dec. 3 when he officially becomes the association's Executive Director. Quinn will serve in an advisory role for Eggerton from Dec. 3 through the end of the month/year. Quinn announced earlier this year his plans to retire after working nearly 40 years in the water industry.
Quinn spoke highly of the ACWA Board's choice of Eggerton in succeeding him. "I can't think of a better choice to lead the association into the future," Quinn said. "Dave's experience with local government and perspective coming from a member agency will be valuable assets."
Eggerton's new position as ACWA's new Executive Director will include overseeing about 40 staff members in Sacramento and Washington D.C. He will also be responsible for the accurate and relevant analyses of the issues surrounding the reliable delivery of safe water to millions of Californians.
"Choosing ACWA's new executive director is perhaps the most important decision the Board of Directors will make for the foreseeable future," said ACWA President Brent Hastey. "Dave is enthusiastic, passionate and has a strong vision for ACWA's role in California water policy. The Board was unanimous in its belief that he is the best leader to take the association forward in a time when water policy is more challenging and complicated than ever before."
Eggerton has been an active ACWA member for the past 15 years. He has served the association in a variety of positions including the Federal Affairs Committee, the Region 3 Board, the State Legislative Committee and the Water Management Committee. He has also previously served as a member of the ACWA Board of Directors.
After earning bachelor's degrees in English and political science from Texas A&M University in 1995, Eggerton went on to graduate first in his class at the University of California, Davis School of Law in 2000. Initially a corporate lawyer, Eggerton's foray into the water world began when he worked as deputy general counsel from 2004 to 2010 for the El Dorado Irrigation District. In 2011, he was named general manager of the El Dorado County Water Agency, a position he held until being hired by CCWD in 2014.
"I know first-hand the important role ACWA plays in the state's water industry," Eggerton said. "Leading ACWA's talented staff in performing that crucial work on behalf of our 450 member agencies is a dream come true."