Metropolitan Water District Board Elects First African American Woman, Gloria Gray, as Chairwoman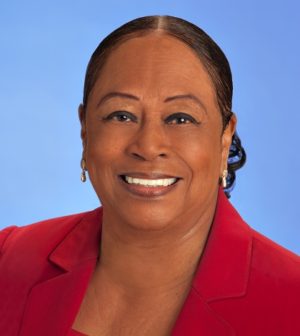 Water veteran and community advocate Gloria D. Gray was recently elected chairwoman of the board of directors of the Metropolitan Water District (MWD) of Southern California. She has vast experience in state, regional and local water issues and has served as West Basin Municipal Water District's (WBMWD) representative on the 38-member Metropolitan board since April 2009.
"I am excited to help lead Metropolitan into the next era, as we work collaboratively to overcome challenges to our imported water supplies brought by climate change, invest in local resources and continue providing a reliable water supply to Southern California," Gray said. "I am committed to an open and transparent decision-making process," she added.
Gray will succeed outgoing MWD Chairman Randy Record who has led the board since May 2014. She will assume her new position beginning Jan. 1, 2019. Gray is the first African American to lead the MWD board and only the second woman to do so in the district's 90-year history.
Gray has been a member of the WBMWD board since 2006 and has twice served as president of that board. As part of the WBMWD board she represents Division II, which includes the city of Inglewood and areas of unincorporated Los Angeles County including Athens, Ladera Heights, Lennox and Westmont. The West Basin board appointed Gray as their representative to the Association of California Water Agencies (ACWA) Joint Powers Insurance Authority and ACWA's Region 8 in 2014, where she is now serving as the 2018-2019 Vice Chair. She was also appointed to represent West Basin as a voting board member on the Santa Monica Bay Restoration Commission, and the Commission elected her to the Executive Committee and the Commission's Authority. Former Assembly Speaker Karen Bass appointed Gray in 2010 to serve for four years on the Delta Stewardship Council and on the Los Angeles County Board of Supervisors water quality community task force.
Gray has been honored with several awards for her efforts in the water world. In 2018, Gray was recognized as Visionary of the Year by Playa Vista Jobs for her work in the water industry. In 2017, she received the Esther Williams Award of Excellence for her continued commitment to community service and water reliability from the South Bay Workforce Investment Board. In 2012, she was honored by the Southern California Water Committee with the "Honorable Harriett Wieder" award for leadership in water.
Gray is retired from the Los Angeles County Department of Health Services here she served as a Health Care Administrator. She also served on the Inglewood Unified School District Board of Education.
Gray becomes the 19th chair in MWD's history. As the head of the agency's board, Gray will represent district policies and programs at national, state and local levels. She will preside over monthly meetings of the board and its executive committee. In addition, she will appoint all members of the district's nine standing committees as well as the leaders of any special committees or task forces.
Gray's experience working on and supporting recycled water projects at West Basin will serve her well as MWD pursues the possibility of investing in the largest recycled water project in the nation. She will assume the helm of MWD's governing board at a time when the district is dealing with water supply and climate change challenges of both of its imported water sources from Northern California and the Colorado River.
Nonetheless Gray is enthusiastic about MDW's future saying, "It's a tremendous honor to have been selected by my fellow Metropolitan board members to serve as chair. I look forward to continuing the board's important commitment to providing reliable supplies of high-quality water both now and in the future."