Reclamation's Central Valley Operations Office announces Kristin White as new deputy manager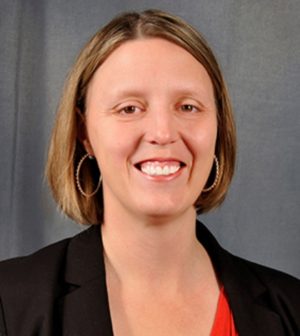 Veteran water employee Kristin White has been selected by the Bureau of Reclamation's Mid Pacific Region as the deputy operations manager for the Central Valley Operation Office.  In her new role, White will participate in the day-to-day functions for Reclamation's Central Valley Project's (CVP) water and power operations.
White previously worked as an engineering consultant in Texas and Virginia. In 2010 she joined Reclamation's Klamath Basin Area Office in Klamath Falls, OR as a hydrologist. In 2011, White moved to Sacramento to work as a modeler for CVP's long-term water supply planning efforts. She transferred to the Central California Area Office in Folsom in 2015 as the water resources branch chief. As the branch chief she led a unit of natural resource specialists on regulatory compliance projects and water planning for the American and Stanislaus river systems.
White earned her Bachelor of Science degree in civil engineering from Florida Institute of Technology and a Master of Engineering degree in civil engineering with an emphasis in water resources from the University of Houston. She also serves as vice chair of the River Basin Planning and Reservoir Operations Committee with the Environmental and Water Resources Institute of the American Society of Civil Engineers.
"Kristin's extensive background in hydrology, long-term water supply planning for the CVP and prior consulting work in flood control modeling, planning and design provides a wealth of experience that will benefit Reclamation and the public we serve," said Jeff Rieker, the Central Valley operations manager. "I look forward to working with her in her new role and her continued success as our deputy manager."
Reclamation's CVP provides irrigation water to more than three million acres of farm land, urban water for more than three million people and generates approximately four-and-a-half billion kilowatt hours of electricity each year.