Yuba Water Agency General Manager Curt Aikens Receives 2019 Lifetime ASCE Achievement Award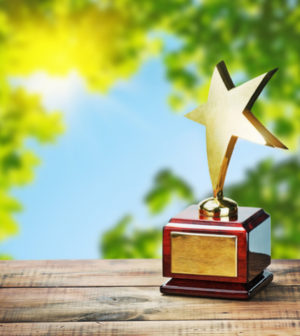 Yuba Water Agency (YWA) General Manager Curt Aikens was honored last week by the American Society of Civil Engineers (ASCE) Sacramento Section with the 2019 Lifetime Achievement Award. The achievement award recognizes people who, through their innovative efforts and long-term involvement, have advanced or significantly contributed to the field of civil engineering for the benefit of the community.
Aikens was honored for his outstanding efforts and professional achievements in civil engineering in his position as general manager for YWA. The ASCE Sacramento Section presented Aikens with his award during the section's 2019 Outstanding Individual Awards Banquet on Sept. 4 in Sacramento.
Aikens has been responsible for leading YWA in its efforts to reduce the flood risk within Yuba County. This has included the foundational planning and support for the levee improvements for the city of Marysville, and for Reclamation District 784 in the Arboga, Olivehurst and Linda areas in California's Central Valley region along the Feather River.
"I feel privileged to be in a position where we can make such a difference in reducing flood risk for an area that has been hit so hard by flooding in the past," said Aikens. "We are now well on our way to being one of the best protected urban areas at risk of flooding in all of California."
The ASCE 2019 Lifetime Achievement Award also recognized Aikens' role in the development and operations of the Forecast-Coordinated Operations program for New Bullards Bar and Oroville Reservoir water releases. This has helped to ensure consistent communications during potential flood events to coordinate releases thereby preventing flooding. The award also highlighted Aikens for the initiation of the new secondary spillway project at New Bullards Bar Dam, which is expected to significantly reduce flood risk even more, and thus enhance dam safety.
A YWA veteran of 21 years, Aikens has partnered with local levee maintaining agencies, state and federal agencies, as well as environmental organizations to successfully advance projects to reduce flood risk and significantly improve public safety for the people of Yuba County.