Dublin San Ramon Services District to build a fourth anaerobic digester at wastewater treatment plant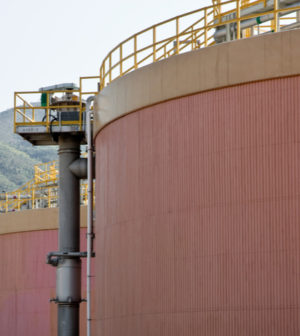 Responding to the growth in the local community, the Dublin San Ramon Services District's (DSRSD) Board of Directors has opted to move forward with plans to build a fourth anaerobic digester and a receiving station for fats, oils, and grease at the DSRSD Regional Wastewater Treatment Facility in Pleasanton. The receiving station will provide a local, environmentally responsible disposal option for companies that pick-up grease trap waste from restaurants. The concentrated grease helps digester bacteria break down solids more efficiently and produce more biogas — renewable fuel DSRSD captures and uses to generate electricity and heat for the treatment plant's operations.
The DSRSD Board of Directors awarded three primary contracts for the construction of the fourth anaerobic digester and receiving station.  GSE Construction Company of Livermore was awarded a $7.8 contract to build the new structures. Carollo Engineers of Walnut Creek will receive up to $473,000 for engineering services during construction and The Covello Group, also of Walnut Creek, has been contracted for $496,000 for construction management.
"We had designed 90 percent of this project by 2010 to accommodate forecasted growth. Then wastewater flows stabilized during the recession and drought and we put the project on the shelf. After updating our master plan for wastewater treatment facilities this year, we determined that we should move forward now to maintain efficient operations for our customers and the community," says DSRSD Engineering Services Manager Judy Zavadil.
The project's total cost is budgeted at $13.1 million; fees collected from developers for infrastructure expansion are expected to fund about 90 percent of the cost. Upon completion of the new receiving station it will generate tipping fee revenue. DSRSD will use these eventually funds to help offset new receiving station's operating costs.
Anaerobic digestion is a simple, natural breakdown of organic matter into carbon dioxide, methane and water, by two groups of microorganisms, bacteria and archaea. Since many of these are intolerant to oxygen, this process is known as anaerobic. Anaerobic digesters work similarly to mechanical stomachs. They provide an ideal environment for bacteria to decompose the organic solids in wastewater and destroy pathogens.
DSRSD serves 173,000 people, providing potable and recycled water service to Dublin and the Dougherty Valley area of San Ramon. The district also provides wastewater collection and treatment to Dublin and south San Ramon and contracted wastewater treatment to Pleasanton. DSRSD operates the Jeffrey G. Hansen Water Recycling Plant and the backbone recycled water distribution system on behalf of the San Ramon Valley Recycled Water Program, a partnership among DSRSD, East Bay Municipal Utility District and the city of Pleasanton.