Oroville Dam Rebuild One of Ten Outstanding Civil Engineering Projects Nominees by ASCE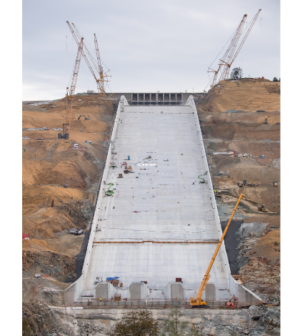 The American Society of Civil Engineers (ASCE) recently released its list of nominees for the 2020 Outstanding Civil Engineering Achievement (OCEA) award and the list includes the Oroville Dam rebuild. The only other California engineering projected of the list of Outstanding Civil Engineering Achievement projects is the Salesforce Tower in San Francisco. Formerly known as the Transbay Tower, the Salesforce Tower is the tallest building in San Francisco and was completed in 2018. It is a 1,070-foot office skyscraper in the South of Market district of downtown San Francisco.
ASCE established the Outstanding Civil Engineering Achievement award in 1960 to recognize an exemplary civil engineering project. This prestigious award honors the project that best illustrates superior civil engineering skills and represents a significant contribution to civil engineering progress and society. Honoring an overall project rather than an individual, the award celebrates the contributions of many engineers.
The massive hole in Oroville Dam's main spillway in February 2017 is well-known. The emergency on the main spillway necessitated the use of the emergency spillway which in turn triggered the erosion that threatened the stability of the weir. When the Department of Water Resources released more water from Lake Oroville down the main spillway, the Diversion Pool crumbled and some 180,000 downstream residents were evacuated.
On March 13, 2020, two runners-up and the OCEA winner will be chosen from among the Honor Awards, during the Outstanding Projects And Leaders (OPAL) Gala in Washington, DC. In addition to the Oroville Dam rebuild and the Salesforce Tower, the other eight excellence projects include:
Alaskan Way Viaduct Replacement Program, Seattle, WA
Bayonne Bridge: Replacement of Main Span Roadway and Approach Structures, Bayonne, NJ – Staten Island, NY
Marc Basnight Bridge, Outer Banks, NC
Olmsted Locks and Dam, Olmsted, IL
Queensferry Crossing, Edinburgh & Fife, Scotland
The Big Lift – Macdonald Bridge Superstructure Replacement, Halifax, Nova Scotia
West Vancouver Freight Access, Vancouver, WA
Zoo Core and Adjacent Arterials Interchange, Milwaukee, WI
According to the Chico Enterprise-Record, ASCE issued a press 0release which said,  "The award (OCEA) recognizes exemplary civil engineering projects from around the world that contribute to the well-being of people and their communities, showcase the use of innovative materials and techniques and demonstrate resourcefulness in the face of planning or design challenges."
In addition to the two runners-up and the OCEA winner, all OCEA finalists chosen by the OCEA jury will receive merit award trophies at the OPAL awards ceremony. The OCEA award program is coordinated through the Honors and Awards program.